NBA All-Star Saturday Night: Foot Locker Three-Point Contest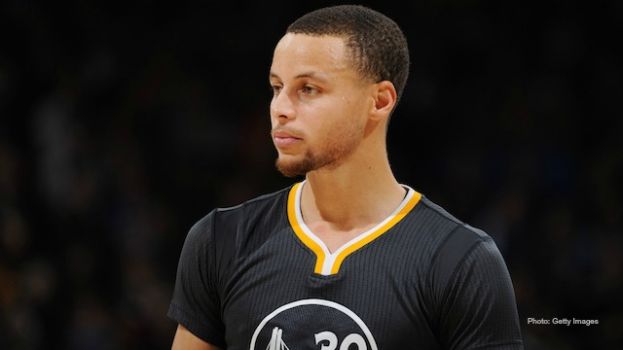 Stephen Curry, Golden State Warriors guard, playing for the West at the 2015 NBA All-Star Foot Locker Three-Point Contest
Kyrie Irving Tries to Repeat Previous Win; but Stephen Curry Takes Home the Prize
The NBA (National Basketball Association) as a brand is one of the best marketing machines in the world.
Few organizations know how to market their key assets as well as the NBA. It's greatest players are mostly known for their prowess as scorers, and the greatest player to ever play in the NBA had no trouble finding his shot, in Michael Jordan.
And because points sell tickets, it's only fitting that the NBA would offer a contest, detailed around who can score at a high-level, particularly from behind the arc.
The Three-Point contest is that event, and Saturday night provided one of the best field of players (shooting the three) to compete in the three-point contest for quite some time.
And what's intriguing about this year's collection of players is the fact that, stars were present.
Kyrie Irving, now a three-time All-Star and former three-point shoot-out champion (2013), suited up.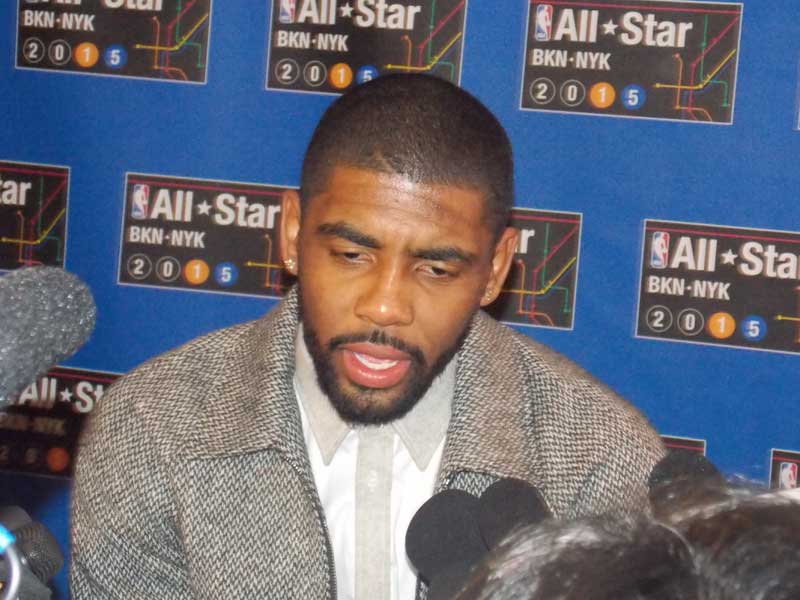 Kyrie Irving, Cleveland Cavaliers guard at the 2015 NBA All-Star Media Day
The "Splash Brothers" in Golden State Warriors sniper duo, Klay Thompson, now a first-time All-Star and Stephen Curry, made an appearance.
You know they had to be there.
And completing the rest of the field featured: Marco Belinelli (San Antonio Spurs & reigning Three-Point Shoot-Out Champion), James Harden (Houston Rockets), Kyle Korver (Atlanta Hawks), Wesley Matthews (Portland Trailblazers) and J.J. Redick (Los Angeles Clippers).
There is star power here because this contest highlighted four-All-Stars surrounded by a number of individuals, known for what they happen to do best.
In terms of three-point percentage, seven of the eight contestants (Matthews-39.5 percent, Redick-43.7 percent, Harden-38.5 percent, Irving-41.3 percent, Curry-40.0 percent, Thompson-44.0 percent and Korver-50.0 percent) are all ranked among the top-50 in the league.
With the talent available, a competition was imminent, and everyone available delivered, with very few disappointments.
Matthews, scheduled to fire first, set the bar high for the first round.
The Trailblazers guard went 4-5 from the money-ball rack, connected on three more and successfully shot 8-16, 50% in one-point shots for a total score of 22.
This is the type of contest that can generate excitement and encore's from the audience if something is brewing and Matthews was able to make that happen, bringing the crowd to its feet, sinking eight of his last 10 shots, in the final two racks.
Following Matthews was Redick, who struggled at first, but ended up producing a solid first round score of 18.
Redick shot 4-10 from the first two racks, including one-made money-ball shot and then erupted for nine-straight made shots, connecting on his last three money-ball shots.
As expected, a high-number of consecutive made shots is an excuse for the crowd to get involved, and after Redick's seventh made three, you could hear the volume of the crowd rising.
After Redick, Harden stepped up to the plate, and he honestly under-performed.
I don't view Harden as a shooter, but more as a scorer.
I think Harden is most comfortable in a competitive atmosphere (NBA regular season, post-season, pick-up) in scoring where ever he chooses rather than having to deal with the pressure of doing your best out of 25 three-point shot attempts.
All in all, Harden finished with 15 total points, making five one-point shots and three money-ball shots.
Now, welcome someone who has performed on this stage before and what stage hasn't he been able to perform on?
Irving, more than capable of hitting threes at a significant rate (41.3%) was slated to shoot next, and displayed why he once held the three-point shootout trophy, once before.
He scoffed at Matthews 22 and contributed 23.
Out of 25 total shots, Irving successfully drained 17, including four of five from the money-ball rack and 11 1-point shots.
Irving's play as a guard, at some point will amaze you and this was no different.
After Irving, the last four shooters, as a group presented a competition in itself.
During Curry's course, the next shooter, TNT's Kenny Smith's voice echoed across the arena, as he asked: "Who is the best shooter in Golden State?".
This was a viable question especially when Curry would score 23 and Thompson 24, back-to-back.
And the final two contestants in Korver and Belinelli would both score 18 each, still solid shooting scores.
Unfortunately, solid numbers like 18 from Korver and Belinelli and 17 from Redick were not enough to advance to the championship round.
Even Matthews who set the bar early with an impressive 22 points was left without the opportunity.
Instead, we would get a final round featuring Curry, Thompson and Irving, pitting the teammates from Golden State against each other, for one night.
Irving began the second round on fire, sinking 8-10 from the first two racks for a score of 9, including one money-ball.
And in the next rack, from the top of the key, Irving would miss all five shots.
He rebounded on the next rack, connecting on five and went 2-5 on the money-ball, completing his championship round with a score of 17.
The championship round warrants a performance that could pressure the other two finalist, and 17 only sparked Curry to provide a shooting show for the ages.
How does a score of 27 sound?
You would think that would be enough to seal the deal because that's the performance Curry exhibited in his fourth three-point shoot-out contest.
He had never won the contest in previous years and for arguably the best shooter in the league, Curry made his case with the crowd in the palm of his hands by the second rack.
In Curry would only miss five shots, going 4-5 from the money-ball rack in addition to 13, 1-point shots.
It would be a tough task for anyone to follow up Curry's performance even for Thompson, who failed to match his teammate, or mirror his first round exploits.
With the exception of his first rack, starting out strong hitting four of his first five shots, Thompson would go 6-20 in the last four racks, solidifying Curry's win. In a contest where each participant could have walked away with the crown, Curry validated why he is the number one marksman in the league.
"I'm very happy right now," said Curry during his post-three point contest interview. "I've obviously been in it four times. So I wanted to win it and get it down. And thankfully tonight I got it, was able to accomplish that."
When asked if this contest shows who is the best three-point shooter in the NBA, Curry replied: "I want to be. There are obviously different criteria you can look at to judge that. Just being in that competitive spirit and having fun out there, I love to shoot the basketball. So that's a great place to kind of showcase that. And I have fun doing it. So I get to take this home with me."
Coming from a basketball family of shooters in father Dell Curry, a former NBA player and his brother, Seth who is currently playing in the D-league, I think it's pretty clear who the bragging rights belong to as of All-Star Saturday night.