The Russ Show: Cancelled......for now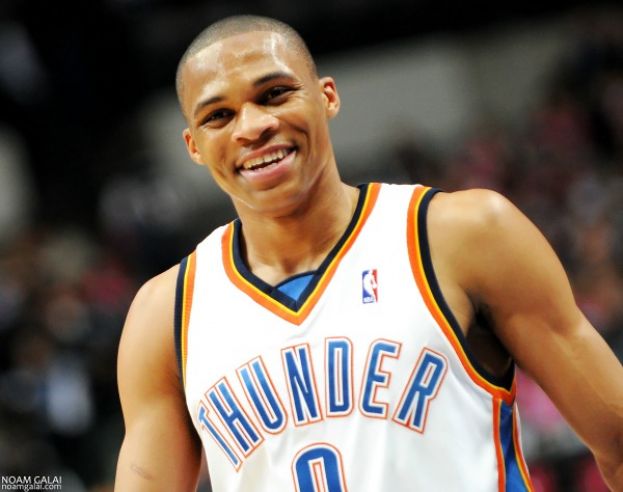 Oklahoma City Thunder point guard Russell Westbrook
In my last post, I dedicated my publication to one of the stars that the NBA boasts presently: Oklahoma City Thunder guard Russell Westbrook.
The injury bug targeted Thunder superstar forward Kevin Durant, who suffered a Jones fracture in his right foot.
Due to the injury, Durant will be out of commission until late November, possibly December-missing a month's worth of NBA action.
My last post was about what I expect Westbrook to display because of the opportunity that revealed itself with Durant's current predicament.
I talked about how Westbrook would have the responsibility of sustaining success with the Thunder until Durant was cleared to return to the floor.
Now, Westbrook will not have that opportunity.
Westbrook suffered a small split in the second metacarpal of his right hand when he collided with his teammate, Kendrick Perkins, going for a rebound in Thursday's game against the Los Angeles Clippers.
Now he's hurt.
Westbrook will be sidelined for the next four weeks and has had successful surgery to repair the broken bone in his right hand which took place on Saturday.
You just couldn't take it easy could you?
You were so excited to do it all by yourself.
That's why we were excited to tune in because we knew we would be provided with watching the entirety of Westbrook's game.
What led to his injury is what makes him great.
It would've been exciting to see the 1-on-1 point guard match-ups that would test Westbrook's decision making without having the best security blanket of Durant's presence to lean on to when he makes mistakes.
What's left of the Thunder is a young group of players who have no-one else but themselves to look to with each win and expected losses in the Western Conference.
This will give Thunder GM Sam Presti the chance to re-evaluate everybody, including head coach Scott Brooks.
With both Durant and Westbrook injured, if Brooks can pull off a Tom Thibodeau (Chicago Bulls Head Coach), and keep the Thunder stable until the cavalry arrives then his job should be safe.
With Durant and Westbrook out, it gives us viewers the opportunity to observe forward Perry Jones. He was the 28th pick of the 2012 draft, projected as a lottery pick that I was high on coming out of Baylor because of his ability to put the ball on the floor at 6'11.
Serge Ibaka's touches will increase which should allow him to continue the upward trend of his offensive game.
And, then there is Brooklyn's own Sebastian Telfair. He should receive the minutes required to prove that he is here to stay. Telfair is back after a year in China and no longer the phenom, now 29 years-old and hopefully wiser.
What's intriguing is that the remaining players on the Thunder's roster seem to be eager to show the world that Westbrook and Durant aren't the only players on the Thunder that can play.
Hopefully, they will get that chance, meanwhile, stars sell and Westbrook's injury diminishes the Thunder's stock.
The Oklahoma City fans are wonderful and will stick by this group.
Westbrook's injury highlights the biggest threat to the NBA and something they have no autonomy over: the health of its stars.