Who Should Be 2015 NBA All-Star Eastern Conference Reserves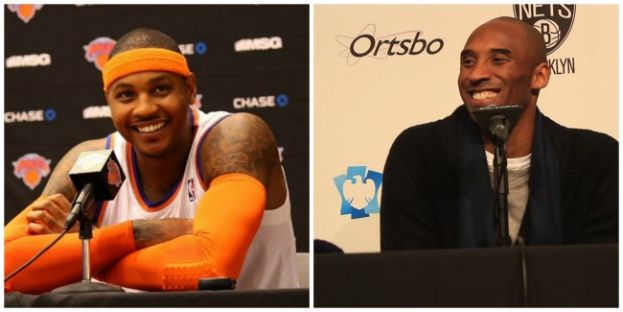 Photo Credits: Alexis Williams/What's The 411 Networks and What's The 411 Networks respectively
New York Knicks Forward Carmelo Anthony and Los Angeles Lakers shooting guard Kobe Bryant make 2015 NBA All-Star Team; but Bryant injury opens up starting spot
Kobe Bryant's Injury Opens Up 2015 NBA All-Star Starting Spot
As you all know, the 2015 NBA All-Star Starters were announced last Thursday night and there were no surprises on either side. Those who deserved to be recognized as starters earned it. This year's contest features newcomers, familiar names, and old faces in new places.
For the Eastern Conference, John Wall (2nd selection), Kyle Lowry (1st time selection), Carmelo Anthony (8th selection), Lebron James (11th selection) and Pau Gasol (5th selection) will serve as the first five on the floor at Madison Square Garden.
On the other side, Stephen Curry (2nd selection), Kobe Bryant (17th selection), Anthony Davis (2nd selection), Blake Griffin (5th selection) and Marc Gasol (2nd selection) will represent the West.
Due to Bryant's season ending injury (torn right-rotator cuff), which will require surgery and a lengthy recovery period, there will be an open spot and an extra opportunity for another deserving player to be honored. That's what this post is about.
We have been informed of who our starters will be, but who will relieve them from the bench? Who will occupy the other seven slots? Each year, this topic compels arguments and ruins friendships and here's my seven:
Eastern Conference Reserves
1. Jimmy Butler G-F, Chicago Bulls
This is a no-brainer. There aren't many two-way two-guards in the league today and Butler has developed into that kind of player. Taking on the toughest defensive assignment on a nightly basis and now having the ability and energy to contribute 20 points a game as well. Add 3 assists, 6 rebounds and almost 2 steals a game and you will have Butler's 2015 season statistics at this juncture in time.
Butler is easily the most improved player in the league, worthy of that honor at season's end because of the vast improvement he has made to his offense. Butler has increased his points per game average every year and is enjoying his greatest leap this season, from 13.6 last year to 20.1 this year, a seven point growth. He's shooting the second best shooting percentage of his career in 45% (shot 46% his sophomore season) and is shooting a career best 49% in 2-pt field-goals.
Aside from being a strong defender and a Swiss-army knife (ability to fill the stat sheet) which Butler established early in his career, what has impressed me the most in Butler's ascension, as an overall player, is his ability to create off the dribble. Butler used to be a slasher and an open-court, transition player. Now he can create for himself and his teammates without having to score via cuts to the baskets and offensive rebounds. Butler is capable of producing 25-5-5 on a nightly basis, giving Rose the perfect complement for a team with championship aspirations.
2. Jeff Teague G, Atlanta Hawks
The Atlanta Hawks have the best record in the Eastern Conference (37-8) and are challenging the Golden State Warriors for the best record in the NBA (36-7). Jeff Teague is a big reason why. The Hawks were always a team expected to make a brief appearance in the playoffs, but due to Teague's emergence as one of the better point guards in the league in addition to a solid supporting cast, the Hawks plan to soar even further. Teague is averaging career highs in points (17.1), rebounds (2.7), assists (7.5) and steals (1.8). With a supporting cast that includes Paul Millsap, Al Horford, DeMarre Carroll and Kyle Korver, the Hawks go as far as Teague can take them and this year, there is no cap on what the southern team can accomplish in a wide-open Eastern Conference. Oh, and another thing, it always seems like Teague is in every play. Active.
3. Kyrie Irving G, Cleveland Cavaliers
Even with the additions of Lebron James and Kevin Love, Kyrie Irving is still a must-see talent. Having the opportunity to play with an All-time great and another volume scorer has been an adjustment for Irving with the difficulty of being a floor-general playing alongside a 6'8" point guard as well. He likes to have the ball in his hands and for the first time in his career, he has to learn how to play off the ball and make good decisions when he has possession of it. Irving is now in a winning situation and his game will be highly criticized if the Cavaliers fail to live up to their escalated expectations, with their off-season acquisitions. Recently, the early struggles the Cavs experienced not too long ago are paying off. The Cavs are in the midst of a 7-game winning streak, which includes wins over the Los Angeles Clippers, Chicago Bulls and Oklahoma City Thunder. In the Cavs 7th straight win over the Detroit Pistons (103-95), James and Irving combined for 70 points, with Irving scoring the greater point total of the two (Irving 38, James 32). The 2014 NBA All-Star game MVP and FIBA World Cup MVP is essential to the Cavs success, now and in the immediate future. Irving is averaging 21.3 pts, 3.1 rebounds, 5.2 assists and 1.6 steals a game this season.
4. Paul Millsap F, Atlanta Hawks
The Hawks deserve to have the most amount of players on this year's East squad and Paul Millsap is a deserving player. After spending the bulk of his career in Utah, Millsap has switched conferences and is the focal point of a team that allows all of his talents to shine. One of the better stretch-4's in the league, Millsap can hurt you inside and outside. Millsap is averaging 17.0 pts and 7.9 rebounds, in addition to a career high-3.2 assists and 1.8 steals. What's great about Millsap is the fact that he is consistent. Through the first three months of the season, Millsap has averaged 17.0 pts in November, 16.8 in December and 17.5 in January. Consistent. For the Hawks to be as good as they are this season, consistency is key and Millsap has defined that this season with his play. At 29 years of age, Millsap still has time to grow and expand his game even more.
5. Al Horford C, Atlanta Hawks
The more Hawks the better. Another significant piece to the Hawks cause is Al Horford. After an injury plagued 2013-14 NBA season (right pectoral muscle tear), Horford is back and on the verge of reminding everyone why he was a 2-time All-Star coming into this season. Horford is averaging 15.2 pts, 6.7 rebounds and 3.2 assists, shooting 54% from the field (9th best in the NBA). In a win against the Philadelphia 76ers on January 13, (105-87) Horford recorded his first career triple double with 21 points, 10 rebounds and 10 assists. Along with Millsap, Horford completes one of the best front-courts in the Eastern Conference.
6. Nikola Vucevic C, Orlando Magic
I really have a problem rewarding good players on bad teams. From my perspective winners deserve to be All-stars. The best teams who boast players playing at an elite level deserve the honor. I can no longer ignore the players playing at an elite level on bad teams or teams struggling because sometimes, the ball just doesn't bounce your way. I cannot fault a player among a team that gives a 100% effort on a nightly basis just because of a poor record. This selection is a testament to my modified thoughts in what makes an All-Star. It's not Nikola Vucevic's fault that the Orlando Magic are 15-33. It's players like Nikola and the other talented youngsters on the Magic that draw your attention to a team that's a couple of years away from making an impact in the Southeast Division. The 3-year man out of USC is enjoying a career best, averaging career highs in points (19.5), rebounds (11.2) and assists (2.0) assists. This is the kind of traditional back-to-the-basket center that would make Shaquille O'Neal proud and when I watch his highlights, I see shades of the Gasol Brothers (Especially Pau). At 24 years young, Nikola has better post moves than Houston Rockets Dwight Howard, great touch and the ability to shoot from outside 10-15 feet. I can no longer dismiss the skills of this kid. He is too talented.
7. Chris Bosh F, Miami Heat
Consistent, reliable, honorable. Chris Bosh should be respected for his presence on the hardwood. He starred in Toronto in his initial years in the NBA. He changed environments for an opportunity to win in Miami, going 2-4 in championships. Bosh sacrificed his game for the benefit of a team with aspirations bigger than filling stats with two future Hall-of-Famers, and through it all, Bosh has survived. Through his first seven years in the league as a Raptor, Bosh averaged 20.3 points and 9.3 rebounds. During the big three era in Miami (Lebron James, Dwyane Wade & Chris Bosh), Bosh averaged 17.3 points and 7.4 rebounds. In his first full season without James, now the big two and two championship rings to show for it, Bosh is averaging 21.3 points and 7.5 rebounds a game. His game has never wavered. He still has it. With an increased role and more touches, Bosh is reminding the basketball world what he is capable of. He has earned his 10th NBA All-Star selection.