Coach 1k: Mike Krzyzewski Hits 1000 Wins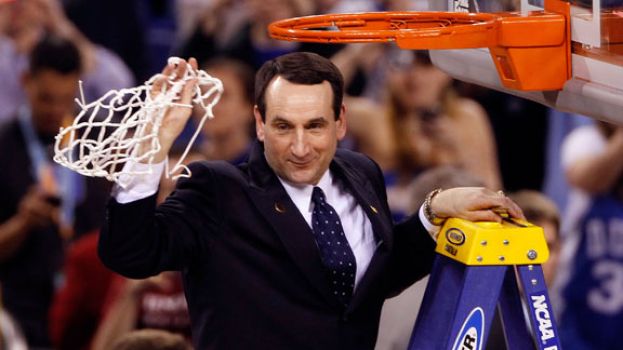 Duke University's Men's Head Basketball Coach Mike Krzyzewski obtaining a basketball net after securing 1,000 wins as a college head basketball coach
Duke University's Men's Head Basketball Coach Mike Krzyzewski has always represented what was great about the game of basketball throughout his established coaching career, and the events of yesterday afternoon, continued that notion.
In Sunday's come-from-behind win against St. Johns University at Madison Square Garden, 77-68, the 5th ranked Duke Blue Devils helped Coach K become Coach 1K, as Krzyzewski captured his 1,000th career win.
Yes, 1000, a grand, four figures.
This milestone victory did not come as easy as expected for the Blue Devils matched up against a revamped Red Storm group looking to return to the dance of the NCAA Tournament, for the first time since the 2011 season.
Senior guard, Sir'Dominic Pointer, who led the Johnnies with a game high 21 points, almost played spoiler accompanied by Sophomore guard Rysheed Jordan, chipping in 18 of his own.
The Johnnies started the second half strong, building a double-digit lead within the first 10 minutes.
Coach K had his work cut out for him yesterday afternoon and with the world watching in the mecca of basketball, he delivered.
The Blue Devils trailed the Johnnies 57-47 with 11:58 remaining in the second half, on a pair of free-throws from Jordan, which signaled a turn of events that would change the outcome of this game for the away team.
Led by a freshmen tandem of Jahlil Okafor and Tyus Jones, with contributions from senior guard Quinn Cook, Duke would embark on a 13-5 run, in which they cut the deficit, tied and converted the go-ahead basket, positioning themselves to make history, leading 63-62 with 5:42 left in the half.
Over the final stretch, Jones provided eight significant points to his team leading 22 points, including a three-pointer which served as the dagger, improving the Devils lead to 72-65 with 1:17 minutes to go till the end of regulation.
Okafor, who finished with a double-double in 17-10, expressed his satisfaction following the game in what it meant to achieve this feat for his Head Coach.
"It was great to get the 1,000th win in the same place Krzyzewski got 903," said Okafor according to The Sports Network provided by Fox News.
"That was something I watched on TV, so it's sort of surreal to think I am here right now."
Coach K becomes the fourth NCAA Head Basketball Coach to reach 1000 victories, joining a group that features former Women's Head Basketball Coach of the Tennessee Volunteers, Pat Summitt, who has amassed the most victories in NCAA history with (1,098).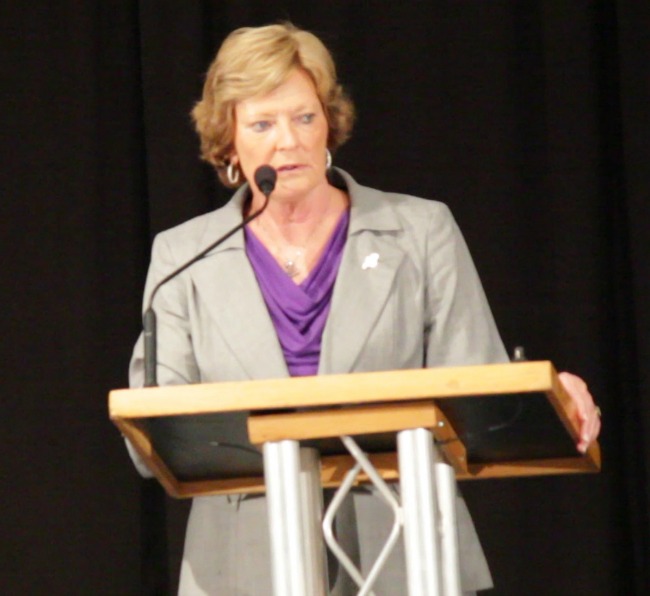 Pat Summitt, former Tennessee University Women's Basketball Head Coach, and the winningest college basketball coach of all time, giving an acceptance speech after receiving an ICON Award from the U.S. Tennis Association
Harry Statham of McKendree University (1,085) and Danny Miles of Oregon Institute of Technology (1,016) complete the prestigious group that prelude's Duke's head coach.
The season isn't over, but now Coach K can relax and focus on taking his talented bunch to greater heights.
"I'm glad it's over," said Coach K during his post-game press-conference.
He is too classy to praise himself and instead, paid tribute to the individuals responsible for his most recent achievement.
"Everybody who played for me is a part of this," Mike told ESPN.
"When a coach achieves a record, he brings all the players that have played for him and all of the assistants that have worked for him, so for all my players and assistants, Thank You, Thank You, Thank You."
If anyone was capable of reaching 1,000 wins, it would be Coach K.
He is the premier coach in the NCAA with his basketball adversaries aiming to replicate his consistency.
In those 1,000 wins, lie four National Championships (1991, 1992, 2001, and 2010), 11 NCAA Regional Championships and 13 ACC Tournament Championships.
And in winning at the highest level in collegiate competition, also represents a long list of great players who have learned under Mike.
Grant Hill, Elton Brand, Bobby Hurley, Jay Williams and Jay Bilas of the past come to mind.
Today, it's Kyrie Irving and Jabari Parker.
Tomorrow, it will be Okafor and Jones.
The most gifted basketball prospects do not commit to Duke to just play Division 1 basketball.
It's to learn under Coach K.
Who would've thought a career, which began at Indiana as an assistant (1974-75), then Army (1975-80) and now at Duke (1980-present) for the past 35 years would end up producing, arguably the greatest college basketball coach in its history.
The keyword mentioned above is greatest, and in achieving greatness, some of the world's greatest in regards to basketball were in attendance yesterday afternoon.
Phil Jackson, Carmelo Anthony, Chris Mullin and Lou Carnesecca headline the stars as witnesses.
And the rest of the basketball world paid tribute by social media and video, which included other respected coaches in the NCAA like Rick Pitino (Louisville) and Bill Self (Kansas).
As for Coach 1K's record, Jim Boeheim (962) is in pursuit and also commented on the triumph of his close friend and colleague.
"I don't know how you win 1,000 games. I know when I started out and got to 100, I was happy to get there," said Boeheim according to USA TODAY.com.
"He's going to coach for a long time. I have no expectations of ever catching him."
For now, Coach 1K's record is safe and at the age of 67, there are more wins to come.