West Wins 2015 NBA All-Star Celebrity Game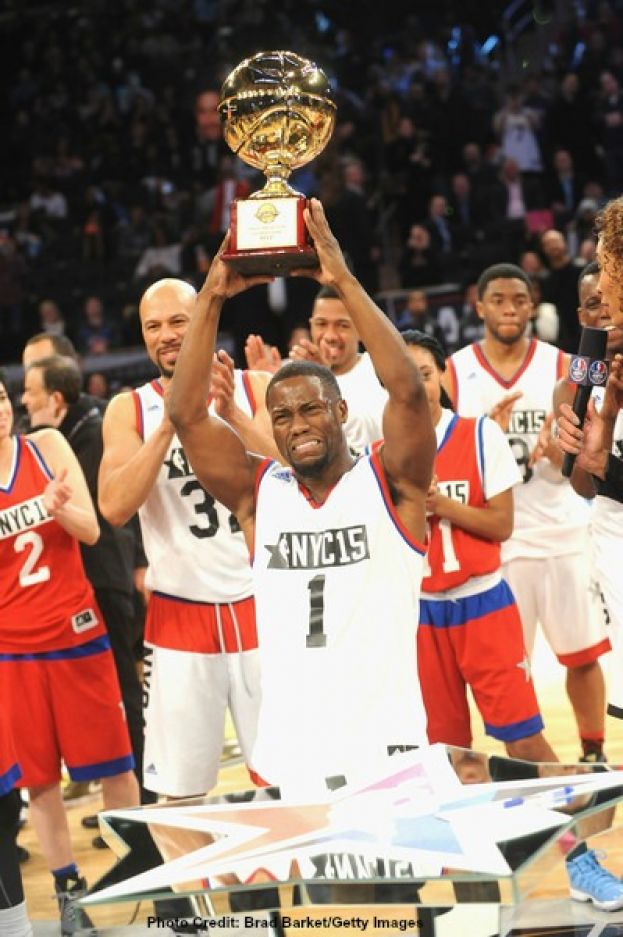 Photo Credit: Brad Barket/Getty Images North America
Comedian Kevin Hart holding his fourth NBA All-Star Celebrity Game MVP Award
Kevin Hart Picks up his 4th MVP Award Despite Being on the Losing Team; and Paralympic star Blake Leeper Makes History
The NBA All-Star extravaganza has something for everybody. The week started with NBA House, several days of community outreach and fan-interaction programs in Brooklyn and Manhattan. However, the 2015 NBA Sprint Celebrity All-Star Game did as it has done since its inaugural in 2003, kicked off the weekend's events with glitz and glam.
It's an exhibition game featuring celebrities and past/current NBA/WNBA players, some more notable than others, depending on your pop culture knowledge.
This year's cast was no different. I am knowledgeable about pop culture thanks to social media. However, even I did not know a handful of the celebrities who selected to suit up.
East and West 2015 NBA Celebrity All-Star Breakdown
Each team, East and West, provided a unique blend of celebrities and basketball stars.
For the West squad, WNBA Star Skylar Diggins and NBA Hall of Famer Chris Mullin provided the actual basketball talent.
And rounding out the celebrity roster were: actors Nick Cannon, Jesse Williams, Ansel Elgort, Anthony Anderson, and Sarah Silverman, Little League sensation Mo'ne Davis, musician Win Butler, and Memphis Grizzlies owner, Robert Pera.
The East squad actually provided more basketball talent in former Knicks guard Allan Houston, New York Liberty forward Tina Charles and Atlanta Dream guard Shoni Schimmel.
And then your celebs in rapper and actor Common; director Michael Rapaport; comedian Kevin Hart; actor Chadwick Boseman; Paralympic star Blake Leeper; NBA reporter Kristen Ledlow; and Bollywood star Abhishek Bachchan.
As for the coaches, Knicks forward Carmelo Anthony; filmmaker and no.1 New York Knicks fan, Spike Lee; ESPN Radio's Mike and Mike hosts Mike Golic and Mike Greenberg; and NBA Cares Ambassador Isaiah Austin coached both teams.
You would think that the East Celebrities would have the advantage, boasting three basketball professionals to the West's two, but in the end, the West, led by Mullin and Diggins, complimented by Pera, proved to be the difference. The West beat the East 59-51.
Diggins finished with 13 points and 4 assists while Mullin scored eight, displaying the perimeter game that made him a household name, connecting on 2 threes.
With the defensive priorities targeted at Diggins and Mullins, Pera was able to raise some eyebrows, silently shooting 5 of 6 from the field along with Butler, who found the rim on countless occasions, chipping in with eight points.
Mo'ne Davis Schools Comedian Kevin Hart; but Hart Stands Out with the Crowd
With all that being said, there was one celebrity that stood out from the pack, and the argument could be made that even though Elgort brought a significant number of adoring teens to MSG, Kevin Hart is as must-see TV as anyone these days.
Other than being one of the best Comedians in the world, Kevin Hart, prior to Friday's celebrity contest, was already a 3-time MVP, sharing his 2014 MVP award with United States Secretary of Education, Arne Duncan in last year's game.
It was evident Hart was going for his fourth, but had the tall task of doing so against Little League star Mo'ne Davis.
Davis became a household name last summer becoming the first girl to pitch a win and a shut-out in Little League post-season history, but prefers basketball as her primary sport. Currently an 8th grader, Davis plays varsity basketball for the Springside Chestnut Hill Academy in Philadelphia, PA.
At 5'4, Davis, all of 14 years-old, matches the 35 year-old Hart in height. Davis took Hart to school going around him with a beautiful crossover spin move finishing with a lay-up that drew plenty of oohs and aaahs to go along with the high fives. As great a move as it was, Davis was unable to prevent her fellow PA native from securing his fourth Celebrity MVP award.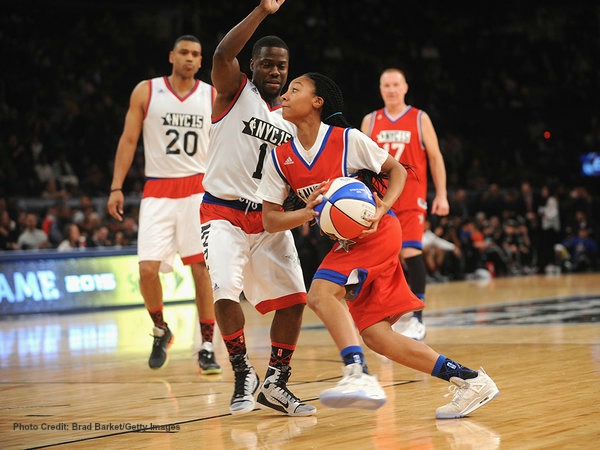 Little League Legend Mo'ne Davis putting a spin move on comedia Kevin Hart at 2015 NBA All-Star Sprint Celebrity Game. Photo Credit: Brad Barket/Getty Images
Was Davis upset?
"Coaches just told me to play up on him," Davis said following the game. "It was all in fun, no hate or anything just a good time."
Hart stole the crowd with his comedic personality and basketball skills, going 5 of 12 from the field for 15 points enabling him to get the NBA Celebrity All-Star MVP award.
"You can't hate Kevin; he is the show," said Allan Houston post-game. "The good thing is he can play and I think that's what makes it fun."
And how can you?
In the first quarter alone, Hart received 2-shots for trying to post-up Davis and flopped, falling on the court to sell the foul from a 14-year old girl.
Kevin Hart Remembers Stuart Scott
For all of Hart's 24-hour comedic personality, during his post-game speech at half-court as he was honored with his fourth Celebrity MVP award, he took the time to acknowledge the late ESPN sportscaster, Stuart Scott, who died from cancer on January 4th. Scott's daughters were in attendance.
Scott loved the celebrity game and it was fitting that Hart, along with the ESPN cast, acknowledged Scott's daughters during the game and after.
Good Job.
Kevin Hart Channels Kobe Bryant and LeBron James
Hart also stated he is retiring, from basketball that is. Hart stated that he will not compete in future NBA Celebrity All-Star games due to the fact that, as he says, "Can do no more."
"It's Kobe, Lebron, Me, it's all the greats," said Hart during his MVP acceptance speech.
And it is great.
Since 2012, Hart has owned the Celebrity All-Star game. He furthered his brand in comedy and pop-culture and provided us with some solid basketball and laughs.
It will be tough to replace this Celebrity All-Star game legend, but I'm pretty sure the NBA will figure it out.
Shoni Schimmel Flies Under the Radar
As for the game itself, the performance that seemed to go un-noticed was Atlanta Dream's Shoni Schimmel.
Schimmel danced her way around the court, creating space with her dribbling prowess for 17 points, even matching up with Diggins at times.
It was not the challenges that the WNBA offers, but still an impressive outing for one of the WNBA's youngest stars.
Blake Leeper Makes NBA History
And the biggest contribution of all came from Paralympic star Blake Leeper.
With a resume that contains silver and bronze medals at the 2012 Paralympic games in London, among other accomplishments as a competitor for the United States in track and Field, Leeper became the first disabled and double-amputee to ever participate in the NBA Celebrity All-Star game.
That's big. That's how you make an impact.