Floyd Mayweather and Miguel Cotto Boxing Promo at the Apollo Theater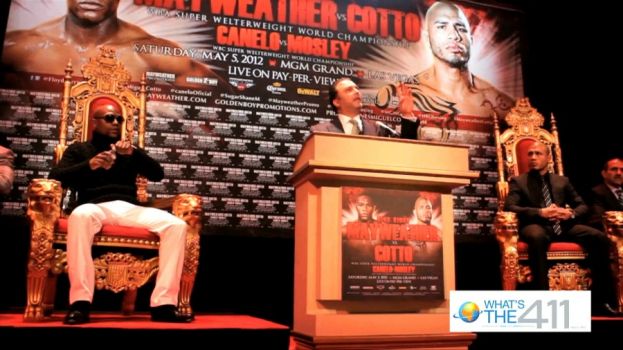 Photo Credit: Alexis Williams/What's The 411 Networks
Boxers Floyd Mayweatherand Miguel Cott at a promotional event at the Apollo Theater
What's The 411 TV's Andrew Rosario was at the Apollo Theater for the Floyd Mayweather Jr. - Miguel Cotto boxing promo.
Welterweight champion Floyd Mayweather Jr. will rise in weight and challenge junior middleweight titleholder Miguel Cotto on May 5 at the MGM Grand in Las Vegas.
Outside the world famous Apollo Theater in Harlem, NYC, boxing fans were lined up and split over who is going to win this fight. Inside, Rapper 50 Cent made it known that he was there to support Mayweather. And, Mayweather and Cotto wasted no time touting their skills; both believe they have what it takes to be victorious.
Only time will tell.
WATCH VIDEO