Bring Johnny Football to the New York Jets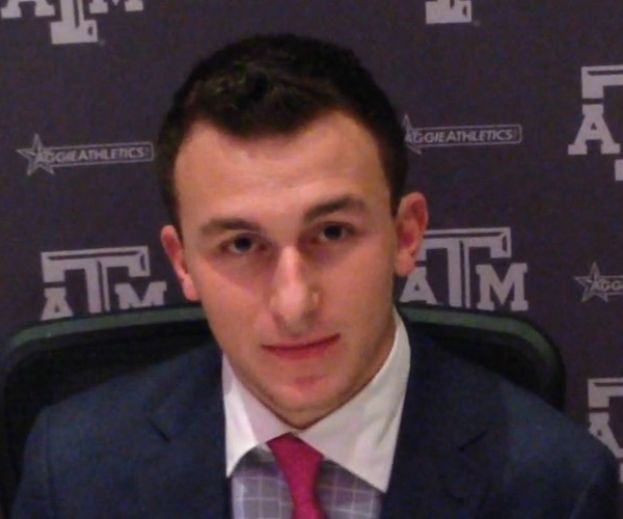 Photo Credit: Bianca Peart/What's The 411 Networks
Johnny Manziel meeting with the media during the 2013 Heisman Trophy Announcement
The New York Jets are on the brink of a franchise changing revolution. Unlike the other football franchise with which they share the city, the gang in green actually promotes a noun more appealing to the citizens of New York. That noun is hope, and the ascending progress the Jets have exhibited this past season in their transactions and production warrant hope.
Let's review: The Jets finished the 2013-14 NFL season 8-8; again, failing to reach the postseason since the 2009-10 NFL season. In starting the season, a preseason injury to then starting quarterback Mark Sanchez, removed him from participating for the duration of the 2013-14, as he elected to have surgery. This unfortunate circumstance provided an opportunity to second round NFL draftee QB Geno Smith, selected out of West Virginia. Head Coach Rex Ryan was retained for an additional year. Marty Mornhinweg was employed as the offensive coordinator, replacing former OC Brian Schottenheimer. The Jets moved on from its former GM Mike Tannenbaum, who they decided to dismiss in favor of John Idzik, newly appointed GM and the former Vice President of Football Operations for the Seattle Seahawks franchise.
As the modern GM, Idzik experienced his first draft establishing his imprint on this franchise, drafting most notably, QB Smith, CB Dee Milliner, DT Sheldon Richardson, G Brian Winters as well as trading the 106th pick in the 9th round to the New Orleans Saints for RB Chris Ivory, all of whom have gained significant playing time last season, especially Smith who was in other words, given the keys to the franchise. With those keys, Smith displayed and manufactured numbers equivalent to a rookie professional athlete, but not one of what has become the norm generated by the new breed of dual, dynamic QB's, and you've heard of them: Robert Griffin "Tha 3rd", Colin Kaepernick, Russell Wilson and Cam Newton.
Since this is New York City, and we are an impatient bunch, Smith has to hurriedly enhance his abilities and translate them onto the gridiron. After all, no one's spot is guaranteed.
Those ideas were recently expressed by Idzik when he said to New York media representatives regarding the 2014 NFL Draft, "We'll look at Quarterbacks."
Smith knows that, even with eight wins. His interceptions overtook his touchdown completions, 21-12 with a completion percentage of 55.8, which is parallel to Sanchez. Smith did reveal some good but not enough, which is why he needs competition. Competition is needed to answer the long-term quarterback position for the New York Jets and who's worthy enough to demand it. Looking towards the draft only one name stands out to me in this class of Quarterbacks. Teddy Bridgewater stemming from Louisville appears to be the top of this year's QB class and will be the first QB selected in this year's draft. However, the QB prospect I'm targeting for these New York Jets is Johnny Manziel, hailing from Texas A&M University.
If you've ever watched and for those who have failed to, just know that it is a show. At 6' 1", over the course of two national college football seasons, Manziel has shown that he has skills. He possesses the skills to extend plays with his feet, excelling in the open field at making defenders miss with his slight frame, accumulating 2,169 rushing yards along with 30 rushing touchdowns. His arm has passed for 7,820 yards, completing 68.9 % of his passes, with a passer rating of 164.1. Manziel has become the first freshman to win the Davey O'Brien Award, appointed to the best overall NCAA QB and the Heisman Trophy honor, an award which represents the most outstanding college football player in the United States.
Despite his performances on the field, Manziel has also created headlines off of it. Manziel was arrested in June 2012 and was charged with three misdemeanors from a brawl courtesy of College Station, Texas. Manziel has also been known to party. He was also kicked out of a University of Texas fraternity party. Maybe his association with hip-hop recording artist Drake excites you. So basically, Manziel has received scrutiny for being a college student. If that's the case then we should all be under a microscope because that is exactly what college entails. It's what we do. College grants young adults the opportunity to explore the world with a new found freedom, and Manziel is exploring his boundaries, as well as, escaping the pocket once it collapses every Saturday Afternoon.
Manziel has the potential to be a star at the next level, and that's a risk the Jets should be willing to take. He makes things happen. The only concerns I have about Manziel revolve around his frame and his instinct to avoid pressure in which he will have to be directed to slide down early in his career to preserve his future, but weight training and a coaching staff should modify these concerns.
The Jets first pick resides at the 18th pick, and due to Manziel's promise, the Jets will have to move up to acquire him. This actually might be one of those quarterbacks that Ryan would appreciate, because Manziel would definitely embody and accept what it means to be a "Jet" in a conspicuous fashion. This actually might be one of those quarterbacks that could contribute in composing enough points for Ryan's defense to work less, developing more wins. Manziel actually might be one of those quarterbacks who we won't question following the end of the year for unemployment. The Jets will never know unless they take a chance.