Teddy Bridgewater Exudes with Confidence at NFL Draft 2014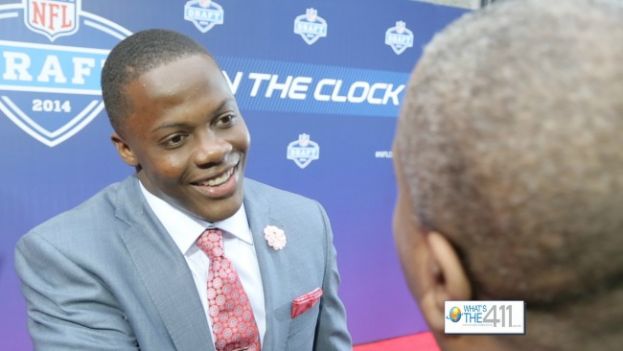 NFL Draftee, Teddy Bridgewater, greeting What's The 411Sports host, Glenn Gilliam at the 2014 NFL Draft
"You are setting the bar high," What's The 411Sports host, Glenn Gilliam, said upon greeting NFL Minnesota Vikings Draftee, Teddy Bridgewater.
Was there a team you felt more of a connection with going into the pro (NFL) workouts?
"I felt the same about every team," Teddy Bridgewater, an NFL Draftee, said about his NFL pro workouts. "That's amazing. You hear stories about guys feeling uncomfortable in one environment, at one organization, but with me, every team I visited, every team that I worked out for, I left there feeling the same."
So how does Bridgewater feel about which type of offense would suit him best?
"I can play in any offense," Bridgewater said with confidence. "I'm coachable, so I will be able to adjust to great coaching; tough coaching; soft coaching; an I formation offense; a shotgun spread offense; option offense, anything. I am just that multiple and that gifted.
All of the NFL draftees were looking rather dapper; so which designer was Bridgewater wearing?
"I can't even tell you, but I know it's from Saks Fifth Ave," he responded.
Inspired by Kevin Durant?
Since everyone was talking about Oklahoma City Thunder guard Kevin Durant's NBA MVP acceptance speech, Glenn Gilliam asked Teddy Bridgewater if he received any inspiration from Kevin Durant's speech.
"Kevin Durant is my favorite athlete," Bridgewater responded. "I feel like he and I are somewhat similar; how special his mom is in his life and how special my mom is. He is down to earth and very humble. He is one of the greatest athletes in the NBA and he doesn't get the credit for it. I feel that he and I relate in those ways that I admire him and everything he said about his mom and his teammates stands out."
Check out video with Teddy Bridgewater
To see our videos as soon as they are posted, subscribe to our YouTube channels: WhatsThe411TV and 411SportsTV