Michael Strahan Talks Live with Kelly and Michael and Football Hall of Fame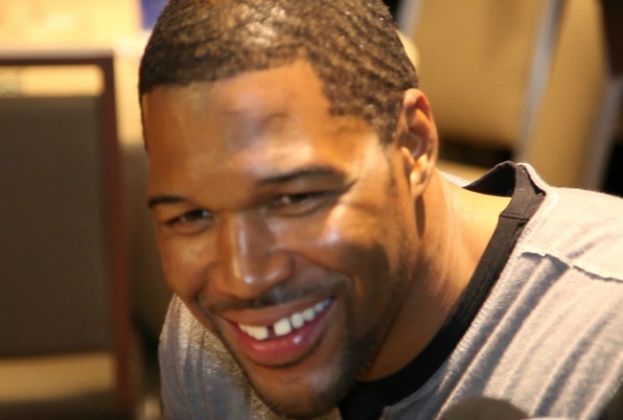 Photo Credit: Alexis Williams/What's The 411 Networks
Former New York Giants defensive end and television personality, Michael Strahan, talking with What's The 411Sports reporter, Andrew Rosario
Although his day is pretty much get up, go to work, go to bed and start all over again, Michael Strahan is having a great time doing his morning show, Live! with Kelly and Michael.
Strahan told What's The 411Sports reporter, Andrew Rosario, during Super Bowl Week 2014, he doesn't see much difference between being on Fox NFL Sunday and talking football and doing his morning show because sports and entertainment are all intertwined.
The real advantage of being on Fox NFL Sunday was being on camera. It prepared him for Live! with Kelly and Michael because just being on camera helps you to get over the nervousness of knowing millions of people are watching.
Additionally, Strahan credits learning television teamwork from working with Terry Bradshaw and crew on Fox NFL Sunday, which was great preparation for Live! with Kelly and Michael.
However, with all that said, what separates Fox NFL Sunday from Live! with Kelly and Michael is that Live! with Kelly and Michael is a lot more animated and there is more talk time than on Fox NFL Sunday.
On Being Elected into Pro Football Hall of Fame
As for the possibility of getting voted into the Pro Hall of Fame (NFL), "It would be amazing," Strahan said.
"It would be amazing and hopefully it happens. But, it is one of those things you can't worry about because you can't control it. And, you go out and you play as hard as you can for as long as you can, and hopefully it's appreciated, and the votes come in your way. And, if they don't, you go back to the drawing board and continue to live your life because being in the Hall of Fame (Pro Football) or not, doesn't mean you stop living. It means you keep on going and doing what you continue to do," Strahan continued.
Life seems to be good for Strahan, right now, really good.
Update: Michael Strahan was elected to the NFL Football Hall of Fame on February 1, 2014.
The induction ceremony for the seven-member class took place on August 2, 2014, in Canton, Ohio.
Check out Andrew Rosario' interview with NFL Hall of Famer Michael Strahan