Billie Jean King Shares Her Insights About Coach Pat Summitt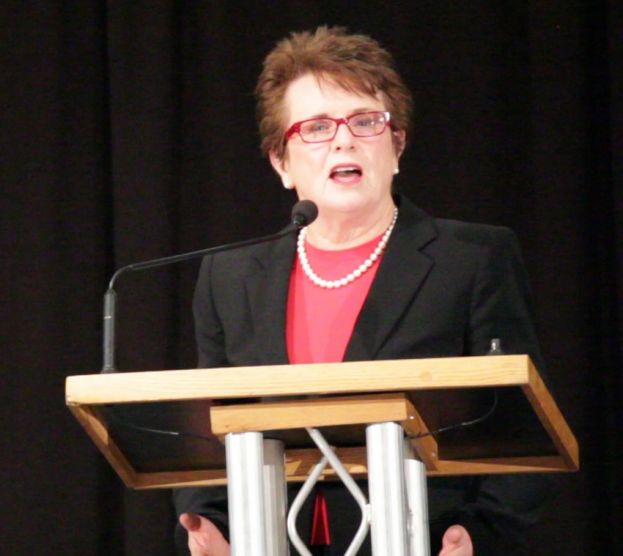 Photo Credit: Alexis Williams/What's The 411 Networks
Tennis Legend Billie Jean King introducing legendary coach Pat Summitt
Billie Jean King, an icon on the world tennis stage, spoke glowingly about Pat Summitt, the former University of Tennessee Women's Basketball Head Coach.
In her conversation with What's The 411 TV's Andrew Rosario, Ms. King will at least make you chuckle with her humorous comments about Coach Summitt.
"She was so much fun to watch coach, not only watch the team play, but to see her look at them, and motivate them, and stare at them, and yell at them. She said she mellowed over the years. The winningest coach, 1098 games, eight national championships, but the most important thing, which you're going to hear when I speak, is that every single player, every single player that she ever coached graduated. That's the big deal I think." (Editor's note: me too!)
Ms. King also states that Ms. Summitt would have been a great tennis player.
A little known fact is that Ms. King played basketball before she played tennis.
The 2012 USTA ICON Awards in its fourth year and held at the US Tennis Center during the US Open, honored Pat Summitt, the former University of Tennessee Women's Basketball Head Coach and now Head Coach Emeritus, with the Billie Jean King Legacy Award.
The association also honored posthumously 2012 International Tennis Hall of Fame inductee and wheelchair tennis pioneer Randy Snow and former USTA CEO and pioneer of the Diversity and Inclusion Department at the USTA, the late Lee Hamilton.
The USTA ICON Awards celebrates diversity and inclusion.
Billie Jean King is a former professional tennis player. She won 12 Grand Slam singles titles, 16 Grand Slam women's doubles titles, and 11 Grand Slam mixed doubles titles.
WATCH VIDEO