Mo'ne Davis, Mariah Carey, J. Lo, Kevin Hart News and more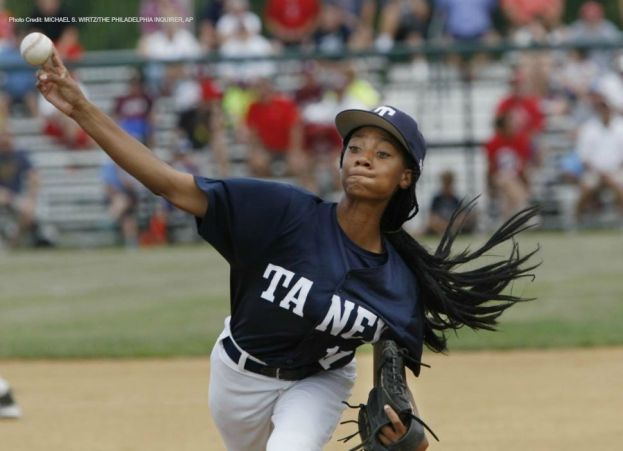 Little League Pitcher Mo'ne Davis
In this episode of What's The 411, we are talking to about:
1. Congratulations to Mo'Ne Davis! She is the first girl to win a game at the Little League World Series and to pitch a shutout in Little League World Series history. She is also the first Little League player to grace the cover of Sports Illustrated magazine as a Little League Player.
2. Congratulations are also in order for the Jackie Robinson West Little League team for winning the Little League national championships.It is the first all African-American Little League team to win the national title and to represent the U.S, in the Little League World Series
3. NFL is suggesting that the Half-time performers at the Super Bowl should pay the NFL to perform. The NFL's reasoning is that the acts go on to reap huge financial benefits after the Super Bowl gig. Rita Obi seems to think that the NFL proposal is a good idea. However, Chris Graham thinks it's ridiculous, the NFL makes enough money on the Super Bowl. In the past, musical guests did not get paid by the NFL to perform and have performed mainly for publicity.
4. Mariah Carey & Nick Cannon Breakup
5. Jay Z & Beyonce Punked Their Fans With Divorce Rumors
6. Kevin Hart Engaged the Same Day that his Ex-Wife's Show Premieres
7. Fashion on the Red Carpet at the MTV Video Music Awards showcasing J. Lo; Nicki Minaj; Jordin Sparks; Kylie and Kendall Jenner
8. Kareem Abdul Jabbar Says Classism Trumps Racism or in other words, Racism is Over, It's Classism, Stupid!
9. The family of Anna Short Harrington, the woman who was the inspiration for much of the Aunt Jemima imagery, is suing Pepsi Co. and its subsidiary the Quaker Oats Co., along with the Pinnacle Foods Group and the Hillshire Brands Co. for use of Ms. Harrington's Likeness for profit without proper payment
10. Tren'Ness Woods-Black Talks About the Legacy of her Grandmother, Sylvia Woods
Who's Being Called on the Carpet:
1. P. Diddy Gets Called on the Carpet for Calling out President Obama for Not Speaking up about the police Shooting Death of Michael Brown in Ferguson, Missouri
2. Rapper 50 Cent Gets Called On The Carpet for Immaturity and Ignorance about Literacy
WATCH VIDEO & JOIN CONVERSATION