Valentino Carlotti and Gilda Squire: The Team Behind-The-Scenes Making Things Happen for Ballerina Misty Copeland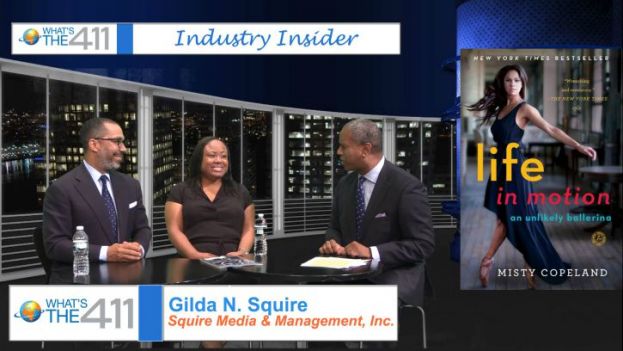 Valentino Carlotti, Head, Securities Division, Institutional Clients Group; Gilda N. Squire, Squire Media and Management; and What's The 411TV host, Glenn Gilliam
Misty Copeland's Rise to ABT's First African-American Principal Dancer is a Merger of Readiness and Opportunity
Valentino Carlotti, Head, Securities Division, Institutional Clients Group, Goldman Sachs; and Gilda Squire, Squire Media and Management; sat down with What's The 411TV host, Glenn Gilliam, for a wide-ranging interview about their career trajectories; the power of networks; their behind the scenes influences that helped American Ballet Theater's Principal Dancer, Misty Copeland, rise to celebrity status; and how they have grown along the way.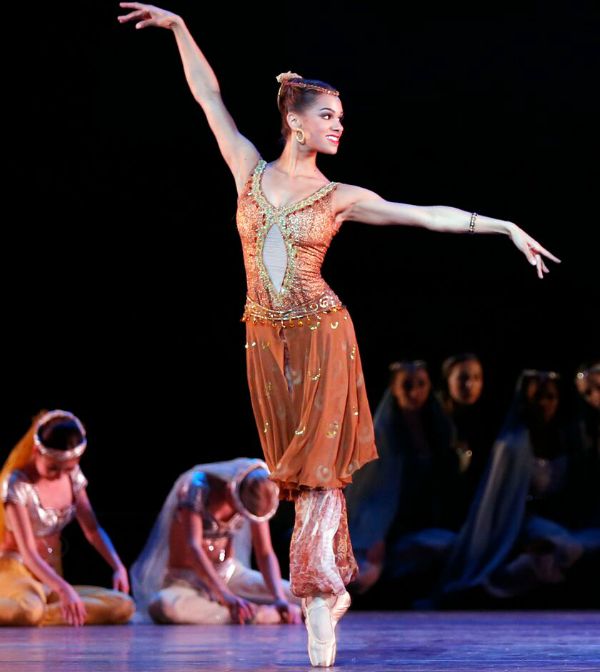 Misty Copeland, Principal Dancer, American Ballet Theater, in Le Corsaire. Photo Credit: Marty Sohl
Carlotti and Squire's Path to Forging an Alliance to Champion Misty Copeland
Born in Baltimore, Maryland, Gilda Squire spent her formative years in Virginia, Gilda's mom passed away while she was young and her father didn't have the money to send her to her dream college, George Mason University. Even though Virginia Union University gave Gilda a full scholarship, she decided to go to work and save money to attend her dream school. Gilda started her career at the FBI at age 16. Although she didn't appreciate it at the time, it was pretty cool having a top secret clearance at 18 years-old.
Gilda later worked on Capitol Hill and after completing her degree at George Mason University, she decided to move to New York to work in entertainment public relations. However, things got interesting, as she discovered that the jobs she interviewed for didn't pay enough to allow her to live on her own. As fate would have it, a recruiter sent Gilda on an interview at Goldman Sachs where she landed a job in the Investment Banking Division. At the outset, Gilda wasn't sure she made the right the decision to work at Goldman Sachs. However, upon reflection, this "amazing miraculous professional detour" set Gilda up for the career that she enjoys today, the opportunity to manage Misty Copeland and to have managed Sara Mearns, Principal Dancer, New York City Ballet; and to have provided media training to then 8 year-old Quvenzhane Wallis, the youngest actress ever to receive a nomination for the Academy Award for Best Actress.
Initially, Valentino Carlotti, who was born and raised in Manhattan, wanted to be an astrophysicist or a doctor. While Valentino was a pre-med major at Yale University, he became intrigued with finance in his junior or senior in college and subsequently, changed his focus to finance. Valentino landed on Wall Street at Goldman Sachs after finishing an MBA at Harvard Business School. As Valentino rose through the ranks at Goldman Sachs from associate to vice president, it is at this point that Valentino and Gilda's paths crossed at Goldman Sachs.
Today, as Partner and Head of Securities Division, Institutional Clients Group, Valentino Carlotti is not surprised that Gilda is as successful as she is even though she is no longer in the finance arena. Valentino touts Goldman Sachs' working environment from recruiting talented people with good potential; the company's structure that provides a platform, resources, and encouragement to its employees, along with the breadth and depth of what employees learn at Goldman Sachs, translates into an environment for success wherever Goldman Sachs' employees land.
Gilda and Valentino reconnected when Misty Copeland was giving a talk at an Apple Store. Valentino offered to be helpful to Gilda, and two weeks later the pair was strategizing about Misty's future.
If you didn't watch the interview, I encourage you to watch and listen carefully to the interview to learn how Misty Copeland became Gilda Squire's client, how Misty's deal with Under Amour came together, the rigors and demands of being a professional ballerina; how Misty overcame a potentially career-ending injury; what NBA Basketball MVP Stephen Curry said about Misty's work ethic; Misty's book tour and documentary, a Ballerina's tale, directed by Brooklyn's Nelson George; and more.