Harry Belafonte and Social Relevant Photographer Stephen Somerstein Top What's The 411TV's 25 Most Interesting People of 2015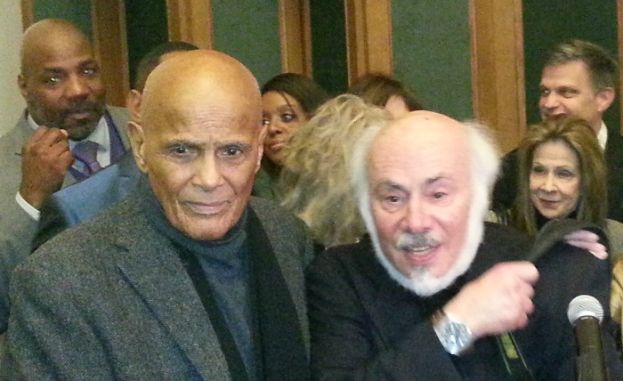 Photo left to right: Singer, songwriter, actor, and social activist, Harry Belafonte and social relevant photographer Stephen Somerstein
The Top 10 include Serena Williams, who leads all athletes; Mathew Knowles; Valentino Carlotti and Gilda Squire; James Patterson; Glenn Anton "Doc" Rivers; Lionel Hollins; Stephen Curry; Ta-Nehisi Coates; and Dr. Yvonne Thompson
BROOKLYN, NY; December 31, 2015 - What's The 411TV, a Brooklyn-based media company, today released its list of 25 Most Interesting People of 2015, and singer, songwriter, actor, and social activist Harry Belafonte; and social relevant photographer Stephen Somerstein, who documented the 1965 Selma to Montgomery, Alabama Civil Rights March are tied for first place on the list. In their own way, each has made an incredible impact on the civil rights movement.
What's The 411TV's 25 Most Interesting People of 2015 is an eclectic list of people interviewed by What's The 411TV reporters primarily as exclusives, but this year, we included a couple of group press conferences attended by our reporters. The list consists of people who have spurred a movement; those who have made an impact in their respective fields globally; iconic figures; athletes including Serena Williams (she leads all athletes); coaches (Doc Rivers and Lionel Hollins, who makes the list for a second time); entrepreneurs; and those making it happen behind the scenes. Domestic Violence dominated headlines in 2015, and two people, Katrina Walker and Melissa Holmes, survivors of domestic abuse, are on the list for telling their compelling stories and helping others. Ms. Walker, a mother of four children, left her abusive husband, found a job and then created 24-hour daycare centers in two states.
"We are grateful for another incredible year of capturing many great stories," said Ruth J. Morrison, CEO and Executive Producer, What's The 411TV. "I especially enjoy listening to the backstories of how people and things evolve such as Tonya Rapley moving from being debt-ridden to becoming "The Millennial Money Coach;" how Goldman Sachs Partner and head of the Institutional Clients Group's Securities Division, Valentino Carlotti and Gilda Squire of Squire Media and Management, partnered to bring Misty Copeland, the American Ballet Theater's first African-American principal dancer into the American consciousness; and international entrepreneur Dr. Yvonne Thompson, CBE brought to life the challenges faced by executive women in her book, 7 Traits of Highly Successful Women on Boards."
Below is a list of What's The 411TV's 25 Most Interesting People of 2015; which can be found online with links to each interview.
1. Harry Belafonte and Steven Somerstein: Even at 88 years-old, Mr. Belafonte is still fighting for human rights and social inclusiveness. Steven Somerstein: through his photography, Mr. Somerstein brought the plight of civil rights into America's consciousness by documenting the 1965 Selma To Montgomery Civil Rights Marchin a way few other could have done - Interviewed by: Luvon Roberson
2. The 21-time tennis grand slam winner, Serena Williams: because the legendary professional tennis player took tennis lovers and aficionados on an incredible ride, and we're still rooting for her
3. Beyonce's father Mathew Knowles: The creator and manager of Destiny's Child, Beyonce, and Solange; describesThe DNA of Achievers in his book of the same name- Interviewed by: Courtney Rashon
4. Valentino Carlotti and Gilda Squire: The team behind-the-scenes making things happen for Misty Copeland, American Ballet Theater's first African-American principal dancer –Interviewed by Glenn Gilliam
5. Award-winning author James Patterson: For his initiative to help independent bookstores and because he's a great storyteller - Interviewed by: Luvon Roberson
6. Los Angeles Clippers Head Coach Glenn Anton "Doc" Rivers: Because he's a sage and he helped to keep the NBA intact- captured by Keisha Wilson
7. Brooklyn Nets Head Coach Lionel Hollins: This is the second time he is on this list and we have learned a lot more about Lionel Hollins in the past year. He's a straight-shooter, instructive, and he manages the New York media
8. Golden State Warriors Guard and NBA MVP Stephen Curry: He understands his limitations and has developed strategies to overcome them; a lesson for us all
9. Award-winning author Ta-Nehisi Coates: for speaking and writing about the elephant in the room- Interviewed by: Luvon Roberson
10. Dr. Yvonne Thompson, CBE: for shining a light on the challenges of executive women in the boardroom- Interviewed by: Luvon Roberson
11. Dr. Brenda Greene, Executive Director, Center for Black Literature and English Department Chair; Medgar Evers College, CUNY: for being a curator of African-American culture through literature and art - Interviewed by: Luvon Roberson
12. Freedom Williams of C+C Music Factory: for keeping us entertained while diversifying his portfolio, and for providing insight into the "new" music industry - Interviewed by: Courtney Rashon
13. Metta World Peace: a fierce competitor and when he's in your presence, there's never a dull moment
14. New York Liberty forward Swintayla Marie "Swin" Cash: She parlayed her prolific scoring and rebounding skills into a studio analyst gig for select New York Knicks games
15. Sherrie Young, National Book Foundation Director of Marketing and Special Projects: standing at the crossroads of literacy and literature and keeping up the good fight- Interviewed by: Luvon Roberson
16. Katrina Walker: an abused wife and mother of four children who turned her adversity into entrepreneurship and philanthropy; she is the owner of 24-hour daycare facilities in two states - The What's The 411TV Team of: Courtney Rashon, Kizzy Cox, and Onika McLean16.
17. Kelly L. Jackson: an entertainment entrepreneur who uses her national radio platform on Sirius/XM Radio to blend entertainment and wellness - Interviewed by: Courtney Rashon
18. Financial Educator, Tonya Rapley: for teaching millennials (and others) how to manage their personal finances; that's why she is The Millennial Money Coach - Interviewed by: Kizzy Cox
19. Performance Artist, Olutayo Bosede (professionally known as Olutayo): for working hard at his craft and thoroughly entertaining us with his voice and dance moves as the Lead Crow on the NBC production of The Wiz Live! - Interviewed by: The What's The 411TV Team of: Essence Semaj, Onika McLean, and Courtney Rashon
20. Andrea Lewis: an actress that is not twiddling her thumbs waiting for the callback, she is creating great webisodes and distributing them through digital media – Interviewed by Glenn Gilliam
21. Stephen Witt, a journalist turned entrepreneur that created a much-needed digital media company, Kings County Politics, focused on the politics of what else, Kings County aka Brooklyn – Interviewed by: The What's The 411TV Team of: Kizzy Cox, Onika McLean, and Courtney Rashon
22. Award-winning self-published author Selma Jackson: she brought to life a people's struggle for human rights through the eyes of a child in her children's book, Granny's Helper – Interviewed by Luvon Roberson
23. Nikkia McClain, CEO, Tene Nicole Marketing and Public Relations, a celebrity marketing, and public relations company: she does whatever it takes for the benefit of her clients, including washing dishes
24. Melissa Holmes: an abused wife and mother who is using digital media and other platforms to help other women abused by their husbands and partners – Interviewed by: Kizzy Cox
25. Chrissy Monroe: an entrepreneur who turned her appearance on reality television into an opportunity for scripted television and other ventures, including the ambassador for Pretty Girl Gang Cosmetics – Interviewed by: Courtney Rashon
Honorable Mentions:
Mychal Thompson, former NBA player and father of NBA All-Star Klay Thompson of the Golden State Warriors: because he still has no problem giving his son fatherly advice.
Rondae Hollis-Jefferson: a rookie NBA player with the Brooklyn Nets who is currently sidelined with a broken ankle; is a selfless millennial who, along with his brother, bought his mother a house as soon as he signed his NBA contract.
Past Honorees:
Previous personalities on What's The 411TV's list of 25 Most Interesting People include: the late Maya Angelou; NFL Hall of Famer Michael Strahan; breast cancer survivor and founder of Beating Cancer in Heels CEO, Marlena Ortiz; Motown Founder, Berry Gordy; Brooklyn Nets owner Mikhail Prokhorov; New York Knicks great and Basketball Hall of Famer Willis Reed; Basketball Hall of Famer and entrepreneur Earvin "Magic" Johnson; Brooklyn Nets head coach Lionel Hollins; NBA player Jeremy Lin; NFL player Richard Sherman; former heavyweight boxer Mike Tyson; former WNBC-TV news anchor Sue Simmons; and more.
SPECIAL THANKS:
Nothing happens in a vacuum, therefore I offer special thanks to Angelo Ellerbee, Gary Sussman, Aaron Harris, Eli Pearlstein, Jeanmarie Daily, D.A. Abrams, Vincent Novicki, Clarence V. Reynolds, Nikkia McClain, Brenda Greene, Patricia Green, Gilda Squire, Sherri Young, Simone Smalls, Pauline Barfield, and of course the What's The 411TV team: Gregory Alcala; Kizzy Cox; Donna Leslie; Onika McLean; Courtney Rashon; Luvon Roberson; Essence Semaj; and Keisha Wilson.
About What's The 411TV
Based in Brooklyn, New York, What's The 411TV is a division of What's The 411 Networks, a media/news, marketing, and events company. What's The 411TV connects sophisticated multi-cultural audiences with its content through its distribution platforms of television, online, mobile, and social media.
What's The 411TV produces two weekly television shows, What's The 411, an award-winning entertainment and lifestyle television show and What's The 411Sports, a sports news and commentary television show. The company covers the Brooklyn Nets, New York Knicks, New York Giants, US OPEN, and other sports events.
What's The 411TV's celebrity portfolio consists of interviews with Magic Johnson, Beyonce, Denzel Washington, Meryl Streep, Morgan Freeman, Danny Glover, Harrison Ford, Samuel L. Jackson, Angela Bassett, Angelina Jolie, Jennifer Hudson, and many, many more.
About Ruth J. Morrison
Ruth J. Morrison is the CEO and Founder of What's The 411 Networks, an integrated media, marketing, and events company, which produces the award-winning weekly news and information television show, What's The 411; What's The 411Sports, and the soon-to-be, What's The 411Business.
A video streaming pioneer, Ms. Morrison developed and launched from conception the City of New York's multi-channel cable television network and served as a Communications Director and Legislative Advisor to a New York member of the U.S. Congress. She is the first African-American independent television producer to have a weekly television show on WNYC-TV and for three years, she worked in Brasil as an entertainment and television licensing consultant for an American company.
Ms. Morrison earned a master's degree in Interactive Telecommunications from the prestigious Tisch School of the Arts at New York University and she was a Communications Fellow at the Annenberg Washington Program of Northwestern University. She taught courses in telecommunications at Fordham University and she completed her coursework towards a Ph.D. in Political Science at Columbia University.
###