The Judgement of Brooklyn: Wine, Beer, Bling...BK Style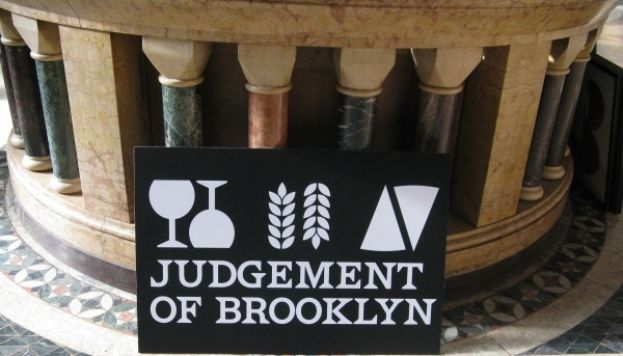 Photo Credit: Donna Leslie/What's The 411 Networks
Judgement of Brooklyn-- Wine, Beer, Bling, BK Style
As my taxi pulled up to the Art Deco masterpiece, Skylight One Hanson, an event space like no other located in downtown Brooklyn in the world famous Williamsburg Savings Bank Clock-tower building, the stage was set for the Judgement of Brooklyn. A custom designed Lamborghini Murcielago decorated by Artist Rashaad Newsome was parked at the entry way. The automobile mirrored the opulence of Sklylight One Hanson's interior of mosaic murals, marble, and carved teller stations. The Judgement of Brooklyn has arrived. The first event of its kind in Brooklyn adapted from the original "Judgement of Paris '76 Tasting", created by Michael Brooks, Co-Owner of Bed-Vyne Brew and Bed-Vyne Wine.
Sponsored by numerous companies in the wine, beer, and lifestyle industry, folks from far and wide came to one of New York's hippest boroughs to partake in the festivities.
Tanya Jackson, daughter of Tito Jackson, promoting her new album came through by way of L.A. dressed in a gold gown, bringing a little extra bling to a momentous event.
Judge Jimmy Carbone, owner of Jimmy's No. 43 chatted holding a glass of beer. He wouldn't divulge his beer of choice but indicated they were all great. I guess we'll have to wait for the final results.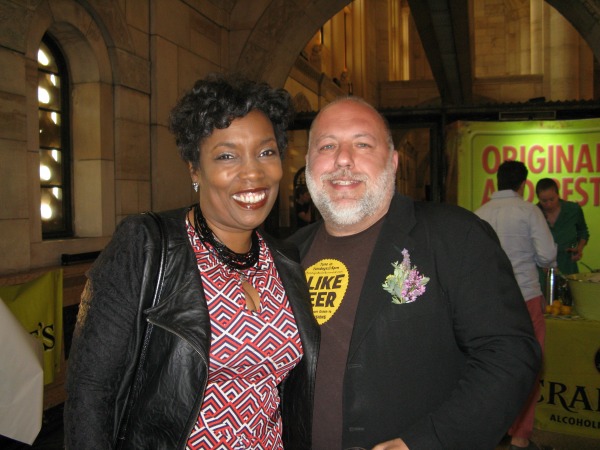 What's The 411TV correspondent Barbara Bullard with Jimmy Carbone, owner, Jimmy's No. 43. Photo Credit: Donna Leslie/What's The 411 Networks
James Tai, Certified Cicerone ® & BJCP Beer Judge divulged that his passion of beer came from his college days! I researched the meaning of "Cicerone". For novices like me, the word Cicerone (pronounced sis-uh-rohn) was chosen to designate those with proven expertise in selecting, acquiring, and serving today's wide range of beers. Go figure!
Among the list of sponsors VON Wine and Spirits gave a heads up on their new restaurant soon to open in Bedford Stuyvesant named Casablanca.
It was also great to see non-profit participation with "God's Love We Deliver" as a sponsor. The organization does such great work and its Director of Volunteer Services and Special Events, Steven Marion, came through to give Judgement of Brooklyn some love.
Jeff Kings Band performed an amazing set, which had people grooving while guests enjoyed their own samplings. An electronic voting system was provided so that guests could compare their own evaluations to those of the critics.
Last but not least, Brooklyn Borough President Eric Adams showed up bringing some Brooklyn love. The crowd got revved up with Brooklyn energy as the Brooklyn Borough President spoke about the future of Brooklyn.
Congratulations Judgement of Brooklyn! You have set the bar in a borough that continues to uplift and expand! Kudos! See ya'll next year!!!!!
Editor: Ruth J. Morrison
Last modified onTuesday, 14 October 2014 04:24
Latest from Barbara Bullard