Author Sightings: Harlem Book Fair's 2015 Phillis Wheatley Book Awards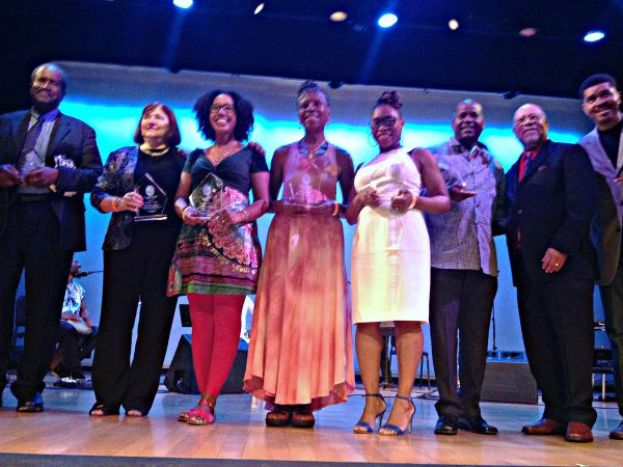 Photo Credit: Luvon Roberson
The 2015 Phillis Wheatley Book Award winners with awrd-winning novelist Omar Tyree (far right)
For book lovers, the Harlem Book Fair offers that rarest of treats: A full range of diverse entry points into the world of books and their creators. In the past, I've attended workshops and author panels at the Schomburg Center, Countee Cullen Library, Harlem YMCA, Thurgood Marshall Academy, and Columbia University Law School. I've always made certain to stroll along 135th Street, between Malcolm X and Adam Clayton Powell Boulevards, with the crowd of 30,000 other bibliophiles, sampling some of the thousands of books on display and talking with many of their authors. I usually end up at the Main Stage, directly across from the Schomburg, where the live, on-stage literary, musical, spoken word performances electrify hundreds, turning that area of the Harlem Book Fair (HBF) into a huge block party, with people moving to the beat or shouting "Tell it! Preach!"
This year, I chose a more intimate experience with books and authors: I attended the Phillis Wheatley Book Awards, which kicked off the HBF and was held at Columbia University's Miller Theatre. And, on Sunday morning, instead of my usual church appearance, I opted to head to the Hotel Beacon for the Invitational Author Brunch, which concluded this year's HBF. These two events might be seen as framing or perhaps serving as bookends for my HBF experience this year. More than ever before, social media – especially Facebook and Twitter --were also keys to how I chose to participate in and share about #HBF 2015.
Another highlight: Long before I knew they were even nominees, I interviewed two of the seven winners of this year's Phillis Wheatley Awards for What's The 411TV. First-time author Selma Jackson's GRANNY'S HELPER won in the Young Readers category; and Tiphanie Yanique's LAND OF FEAR AND DROWNING (Penguin/Riverhead, 2014) won for Fiction.
Jackson, who self-published her first book, tackles racial discrimination, physical disability, gender privilege, family tragedies, and more, with such gentle, sure-handed confidence that children from ages 8 to 11 will fall in love with the title characters -- Young Selma and her blind granny.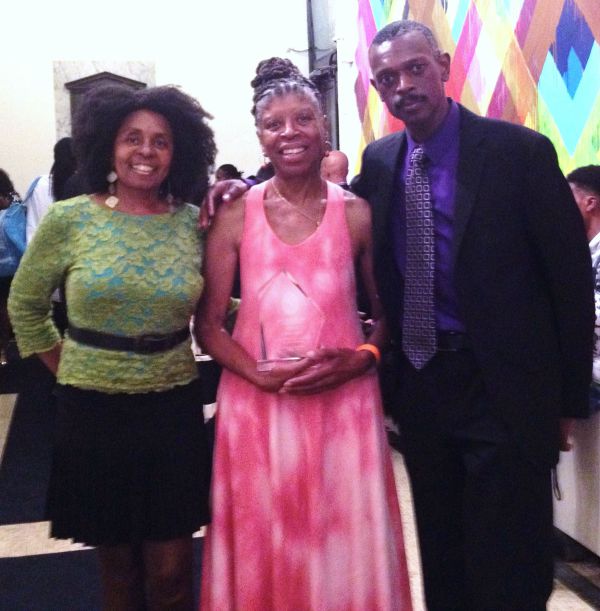 What's The 411's Book Editor Luvon Roberson; Selma Jackson, author of Granny's Helper; and Ansel Pitcairn, Illustrator, Granny's Helper; Photo Credit: Luvon Roberson
Yanique's compelling novel, which took her 11 years to complete, is a powerful homage to what it means to be "African American," as viewed through the three-way lens of her three narrators. Her powerful storytelling opens a way for me to recognize Virgin Islanders as "African-Americans" as my enslaved forebears on the US Mainland and to re-envision spaces and places we each call "home."
What's The 411 Book Editor Luvon Roberson and award-winning author, Tiphanie Yanique. Photo Credit: Luvon Roberson
Read about how I first learned of Yanique's work in 2014, at the Harlem Book Fair
Harlem Book Fair founder Max Rodriquez offered a moving introduction to the Awards event and Columbia University's Associate Dean, Office of Community Outreach, School of the Arts Marcia Sells opened with a warm welcome to the 200+ people filling the theatre. Hosted by WBGO host Sheila E. Anderson, the Wheatley Book Awards also honored acclaimed poet-activist Nikki Giovanni and renowned illustrator Jerry Pinkney with Legacy Awards. Andrea Davis Pinkney and Brian Pinkney delivered a memorable tribute to Jerry Pinkney – in the form of a children's story about "Daddy Lion."
Ancestral music performed by Atiba Wilson and the Befo' Quotet, vocalist Imani Uzuri's call and response selection, and the moving choreopoem enacted by Sherri Pullman, Chantal Maurice, and Vesta Walker made for the evening's festive, entertaining flow. Behind-the-scenes, writer and media director Pittershawn Palmer was in constant motion, helping to ensure the success of this must-attend annual literary event.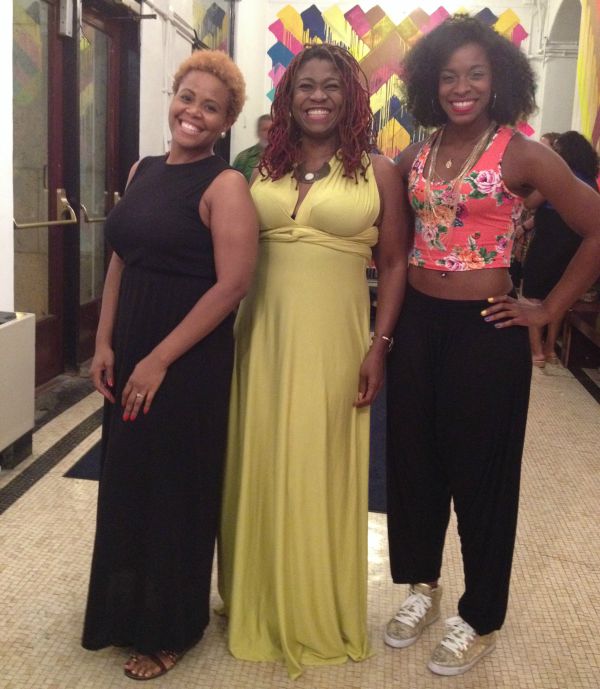 Choreopoem (L to R) Chantal Maurice; Sherri Pullum; and Vesta Walker. Photo Credit: Luvon Roberson
CLOSING LINES... 2015 Phillis Wheatley Awards
"I love being touched by a book." – Max Rodriquez, founder, QBR Harlem Book Fair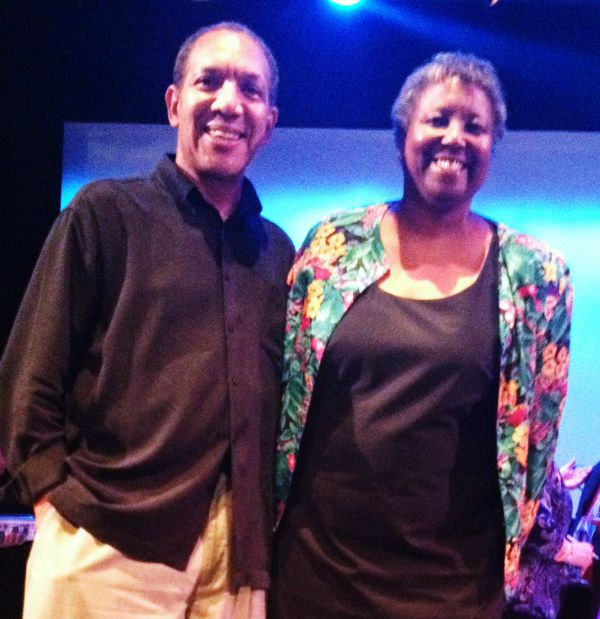 Max Rodriguez, Founder, QBR, the producer of the Wheatley Book Awards and the Harlem Book Fair on stage with Marcia Sells; Associate Vice President, Office of Community Outreach, Columbia University School of the Arts. Photo Credit: Luvon Roberson
The Phillis Wheatley Book Awards, named for the first published African-American female writer, is given for literary work and literary advocacy that transcends culture, boundary, and perception.
2015 Phillis Wheatley Awards 21 Finalists & 7 Winners
First Fiction
Adinkrahene: Fear of a Black Planet by Jeffery A. Faulkerson
Born at Dawn by Nigeria Lockley -- Winner
Shifting Allegiances: A Nigerian's Story of Nigeria, America & Culture by Amaka Lily
Fiction
Every Day Is for the Thief by Teju Cole
Glorious Sunset by Ava Bleu
Land of Love and Drowning by Tiphanie Yanique -- Winner
First Fiction
Daffodil: A Mother's Journey by Demetria Hayes
No Doubt: The Murder(s) of Oscar Grant by Thandisizwe Chimurenga
Regina Anderson, Harlem Renaissance Librarian by Ethelene Whitmire -- Winner
Nonfiction
A Light Shines in Harlem: New York's First Charter School and the Movement It Led by Mary C. Bounds -- Winner
Breaking Ground: My Life in Medicine by Dr. Louis W. Sullivan
Businessman First: Remembering Henry G. Parks, Jr., 1916-1989 Capturing the Life of A Businessman Who Was African American by Maurice W. Dorsey
Poetry
Brief Evidence of Heaven: Poems from the Life of Anna Murray Douglass by M. Nzadi Keita
City of Eternal Spring by Afaa Michael Weaver-- Winner
Tears For My Ancestors by Malik Canty
Young Readers
Granny's Helper by Selma Jackson -- Winner
Midnight and the Man Who Had No Tears by Tiffany Golden
Tate and His Historic Dream by Bernard C. Turner
Young Adult Readers
Dear Diary, The Bullying Won't Stop by Delicia B. Davis
The Madman of Piney Woods by Christopher Paul Curtis -- Winner
Willow by Tonya Cherie Hegamin
Legacy Award Winners
Nikki Giovanni
Jerry Pinkney
To learn more about Harlem Book Fair, visit www.Harlembookfair.com.