12 Years A Slave Secures Nine Academy Award Nominations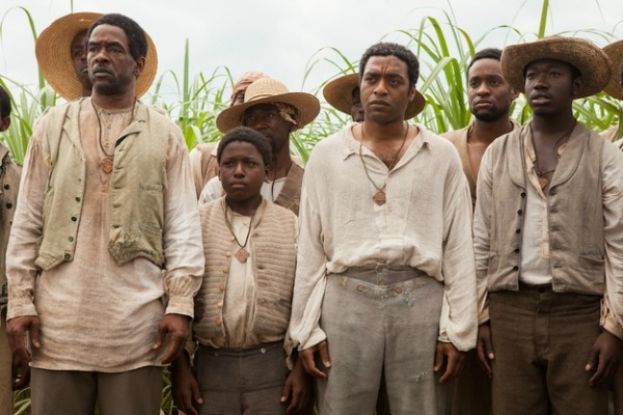 Photo Credit: Fox Searchlight
A scene with some of the male cast members from the movie, 12 Years A Slave
Pharrell Williams Earns His First Oscar Nomination; American Hustle and Gravity Lead the field with 10 Noms
The Oscar nominations are in.
Amid a fairly vocal crowd, Cheryl Boone Isaacs, the first African-American president of Academy of Motion Picture Arts and Sciences, and actor Chris Hemsworth, today announced the 2014 Oscar nominations, which was held at the Samuel Goldwyn Theatre at 5:38 a.m. PT.
The film, 12 Years A Slave, grabbed the following nine nominations:
1. Best Picture (Brad Pitt, Dede Gardner, Jeremy Kleiner, Steve McQueen and Anthony Katagas)
2. Best Director (Steve McQueen)
3. Best Actor (Chiwetel Ejiofor)
4. Best Supporting Actor (Michael Fassbender)
5. Best Supporting Actress (Lupita Nyong'o)
6. Best Adapted Screenplay (John Ridley)
7. Best Production Design (Adam Stockhausen and Alice Baker)
8. Best Costume Design (Patricia Norris)
9. Best Film Editing (Joe Walker)
More Oscar Contenders
Gravity and American Hustle top the Academy Award nominations with 10 each.
In addition to 12 Years A Slave, eight other films are Best Picture contenders. They are: American Hustle, Captain Phillips, Dallas Buyers Club, Gravity, Her, Nebraska, Philomena, and The Wolf of Wall Street.
Pharrell Williams received an Oscar nom for the song, Happy; from the movie, Despicable Me 2.
Happy, written and performed by Pharrell, was one of five songs nominated for a Best Song Academy Award. Also nominated in this category are Paul Hewson, Dave Evans, Adam Clayton and Larry Mullen, also known as U2 for their song Ordinary Love from Mandela: Long Walk to Freedom. Paul Hewson also known as Bono wrote the lyrics.
Barkhad Abdi received a nomination for Best Actor for his role as a Somali pirate in Captain Phillips.
In the Best Documentary category, 20 Feet from Stardom, a film about the lives of backup singers to some of the music industry's biggest names, also secured an Oscar nom.
Hollywood celebrities, actress Jennifer Lawrence received a nomination for Best Supporting Actress in American Hustle; Leonardo DiCaprio earned his fifth nomination for Best Actor for The Wolf of Wall Street; Matthew McConaughey and Jared Leto both received nominations for Dallas Buyers Club, in the Best Actor and Best Supporting Actor categories respectively.
The Oscar Shut-Out
Oddly enough, Lee Daniels who received a nomination for Best Director for Precious, did not get nominated for his critically acclaimed film, Lee Daniels' The Butler, and neither did any other actors associated with The Butler. Sorry, Ms. Oprah Winfrey and Mr. Forest Whitaker.
Fruitvale Station and Mandela: Long Walk to Freedom were also shut out from Academy Award nominations for acting, Best Director or Best Picture. Many were hoping that Idris Elba would get a nod for his role as the late South African president, Nelson Mandela, in Mandela: Long Walk to Freedom.
To see the entire list of Oscar nominations, visit Oscar.com
Find out who will win an Oscar when the 86th Academy Awards ceremony, hosted by Ellen DeGeneres, airs live on Sunday, March 2, 2014, at 7:00 p.m. ET.