Former Destiny's Child Member Makes a Great Impression on Blushhh Music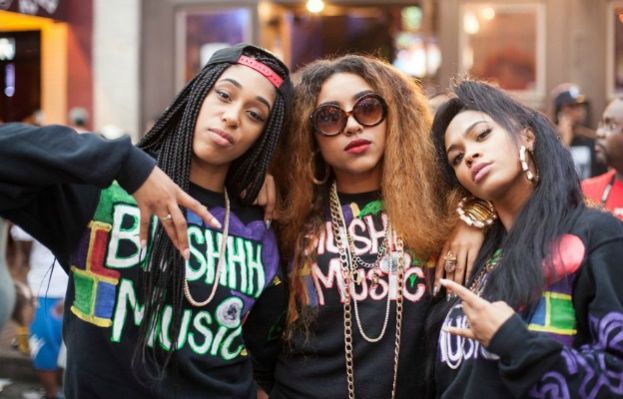 Photo Credit: Lizzie Chen for the Guardian
Blushhh Music (l to r) Sunnie, Tali, and Bunni Ray at SXSW. promoting their debut single, Old School Back
Tali of Blushhh Music says Kelly Rowland played a big part in her life
With the introduction of Mathew Knowles new hip hop trio, Blushhh Music, which happens to be three women, it's understandable that right away, people are looking for comparisons to Destiny's Child.
But, who would have thought that when What's The 411, host and beauty expert, Courtney Rashon asked, "Who is the most interesting person that you guys have met, aside from Mr. Knowles of course, when you guys became a group?" that Blushhh Music vocalist, Tali, would have responded without hesitation, "Kelly Rowland!"
Tali didn't stop there; she gave us the whole story, at least we think it's the whole story behind her fascination with Kelly Rowland.
"Kelly Rowland to me; she played a big part when I was growing up period, in my high school days. When Sunnie found me, I was telling Sunnie about it, so Sunnie was like, okay, okay. So when we got signed with Mr. Knowles, it was weird. So we just had the Atlanta Car Show, the car and bike show that we did, and she (Kelly Rowland) has June's Diary and they were there and they performed. So we got to meet Kelly, and when she saw us across the room, she ran over to us, and she was like 'hey I'm so happy to see you, great job.' So I finally got a chance to introduce her, and they were like, 'hey I heard so much about you.' She's just so sweet. She took a picture with us. She gave us great advice and that is something that we just took with us. It was like meeting the entire Destiny's Child group. It's really like we are Music World Entertainment family."
Yes, you are all a part of the Music World Entertainment family; much success to you and enjoy the journey!
And, you can check out Blushhh Music's debut single, Old School Back on iTunes; and follow them on social media @BlushhhMusic.