Who Should Be 2015 NBA All-Star Western Conference Reserves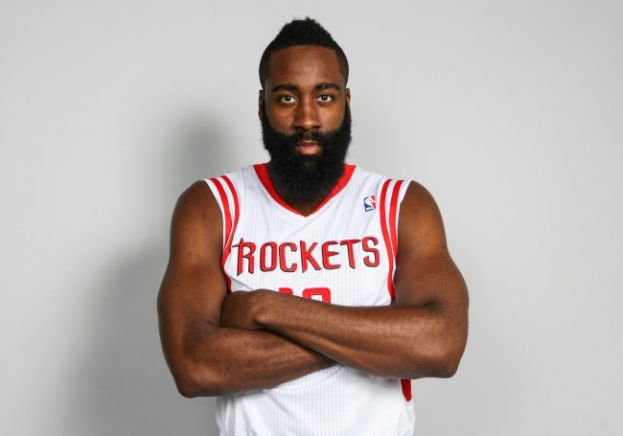 Photo credit RhinoPress.org
Houston Rockets shooting guard James Harden should replace Kobe Bryant as a starter on the 2015 NBA All-Star Western Conference team.
Houston Rockets James Harden Should Start in 2015 NBA All-Star Game Replacing Kobe Bryant
Unfortunately, Kobe Bryant is gone for the rest of this season (torn rotator cuff) after injuring his right shoulder in last Wednesday night's game against the New Orleans Pelicans. The good news, Kobe underwent a successful surgery to repair his shoulder and will be shelved for the next nine months, according to Bleacherreport.com.
Kobe was voted in as a 2015 NBA All-Star by the fans in this year's contest as a starter, even though he did not deserve it. There is an open spot, and James Harden of the Houston Rockets should fill it. Harden's exploits this year has the bearded-one as the premier candidate in MVP consideration, not named Stephen Curry (Golden State Warriors).
Harden is leading the Rockets (32-14, 5th in the Western Conference standings) in the ultra-competitive Western Conference all while doing it his way; he is averaging 27.6 points, 6.8 assists and 5.6 rebounds. With 27.6 a game, Harden is leading the league in scoring, which includes four-40+ point games, 17-30+ point games and 16-20+ point games. Add two steals per game, for someone known as a poor defender. Combined that with a play-maker from the two-guard spot, capable of making his teammates better, while cleaning the glass and having the offense run through him and I think that qualifies as an All-Star Starter. The beard doesn't hurt either.
Now, my picks for the 2015 NBA All-Star Western Conference Reserves
1. Klay Thompson SG, Golden State Warriors
Before this season began, I claimed that this was Klay Thompson's year to make the All-Star team. He was primed for take-off, returning from the FIBA tournament (averaged the second most points on the team-12.7, Harden-14.2) gaining a much needed experience among a team filled with stars. His confidence rose and so did his game. And as NBA fans, we are reaping the benefits every-time he touches the hardwood.
Last Friday, in a win against the Sacramento Kings (126-101), Thompson exploded for 37 points in the third quarter (alone) en route to a 52 point performance. Yes, that's a good way to already boost his 23.0 points per game average, in addition to 3.0 assists and 3.6 rebounds. The other half of the "Splash Brothers" (Stephen Curry & Thompson) is also a willing defender. That's why I'm excited about Thompson. He can score and lock-up his opponents, having the ability to guard 1 through 3 at 6' 7". Yup, 6' 7". It's the size combined with the overall game Thompson displays which in my mind, makes him the best SG in the league. The 7th ranked scorer in the association will be an All-Star. Book it.
2. Monta Ellis G, Dallas Mavericks
What else does the man have to do? Monta Ellis of the Dallas Mavericks has been deserving of an All-Star berth for a couple years now and this has to be his year. He's earned it. One of the few players in the league today via High School (Lanier High School), Ellis has been the human-human torch his entire career.
Outside of his rookie season, Ellis has averaged no less than 16.5 points per game. After his first seven seasons in Golden State (19.1 points per game), Ellis moved on to the Milwaukee Bucks and the results have not changed (2 years, 18.4 points per game average). And now in Dallas, Ellis is averaging 20.3 points, 4.4 assists, 2.5 rebounds and 1.8 steals.
In his first playoff experience with the Mavericks, Ellis contributed 20.4 points. It doesn't matter the climate, Ellis can score anywhere. Give him one of the guard spots in this years All-Star game, as a western conference reserve because he's earned it, entering his 10th NBA season. He's long overdue for this honor. Convert this yearly nominee into a winner.
*Monta Ellis has played more games (47) to Russell Westbrook's (32), and I will not be surprised if he is voted in, instead.
3. Damian Lillard G, Portland Trailblazers.
With only two-full years of NBA experience, Damian Lillard of the Portland Trailblazers has already made his mark in the NBA. How many more Adidas and Foot Locker commercials do you have to see to realize that Lillard's game is worth promoting through product? His resume at this point in his career has the trend of a player whose on the verge of accomplishing greatness. He's already an All-star, selected for the first time in his career during his sophomore season. He's a former rookie of the year (2012-13), All-NBA Rookie First-Team member and an All-NBA Third Team member (2014). If you love All-Star weekend, he's also a two-time NBA Skills Champion over the past two seasons.
Lillard is averaging a career best in all the categories that matter, in terms of points (21.8), assists (6.2), rebounds (4.6) and a field goal percentage 43%. He has led the Trailblazers to the 3rd seed in the west, if the season ended today at 32-14. In his All-Star season, last year, Lillard led the Blazers to the post-season and won his first career playoff series against the Rockets, 4-2. Lillard, who hit the game-winner to clinch the series against the Rockets, averaged 25.5 points, 6.3 rebounds and 6.7 assists, in the series.
Although the Blazers lost to the eventual champions in the San Antonio Spurs in the Western Conference Semi-finals, Lillard gave you the feeling that this team would return the following year to make amends for their failures. So far, so good. Lillard is living proof of how much better the league would be today, if the game's best prospects elected to stay in school through their four years of eligibility.
4. Lamarcus Aldridge F, Portland Trailblazers
Lillard's partner in Oregon gets the nod here. Aldridge is one of the best stretch-4's in the league today and his numbers warrant that honor. At 6'11, Aldridge has found a game that works for him, operating, primarily away from the basket with a developed jump-shot that seems almost automatic at times. This year, Aldridge is blessing the Blazers with a double-double, 23.6 points and 10.2 rebounds a game. I think it's working for him. And when Aldridge finds his rhythm offensively, there is no stopping the former longhorn. In last year's first round playoff series against the Houston Rockets, Aldridge posted a double-double in 29.8 points and 11.2 rebounds, against arguably one of, if not the best defensive center in the NBA, Dwight Howard. He carved Howard on the boards and had his way offensively for the duration of the series. Aldridge is a load to deal with, and there's no reason why he shouldn't be a 4-time All-star by tonight.
5. DeMarcus Cousins C, Sacramento Kings
Like Nikola Vucevic, DeMarcus Cousins is a great player on a struggling team. The Kings are 16-28 through 1/29/15, occupying the 12 seed in the Western Conference standings. They probably won't make the playoffs with teams such as New Orleans and Oklahoma City slotted above them, but it hasn't stopped Cousins from "boogieing" down low. Despite the inconsistent progression of the Kings this season, Cousins has been the lone bright spot, averaging a double-double in 23.8 points and 12.3 rebounds. At 6'11, weighing 270 pounds-combined with a variety of post-moves and the ability to knock down shots, Cousins is well on his way to becoming offensively unstoppable on the post. Maybe he's already there. Cousins has tied Aldridge in 30+-point games (6-each) and has recorded 17, 20+-point games this season, all while missing 12 games (10 due to viral meningitis). With a 2014 FIBA gold-medal already attached to his resume at the age of 24, its time for Cousins to add more hardware. It starts this year at MSG.
6. Tyson Chandler C, Dallas Mavericks
You can easily swap Tyson Chandler for his teammate Dirk Nowitzki in filling one of the last two front-court slots on the Western Conference All-Stars reserves bench. But you can go either way. That's how much Chandler means to this team. One of the integral pieces to the Dallas Mavericks 2011 championship season, Chandlers return to the Mavs has them believing they are primed for another championship run. Acquiring Rajon Rondo in the middle of the season obviously helps the cause. Chandler provides the intangibles that Dallas can rely on in their front-court that starts with defense. There's only so much Dirk can do and the Mavs need him to carry them offensively. That's where Chandler comes in. Chandler isn't blowing away the opposition statistically, but 12.0 rebounds a game helps. Anything you can get offensively from Chandler is a plus, averaging 10.5 points per game this season. Add one or two blocks a game and having something no-one can teach: 7'0. The Mavs are 30-17 so far this season, occupying the 7th seed but with the acquisition of Rondo and the re-acquisition of Chandler, it doesn't matter where they are positioned on the WesternConference standings. The Mavericks first round opponent will have their hands full.