NBA All-Star 2015 Meant More To New York City Than Basketball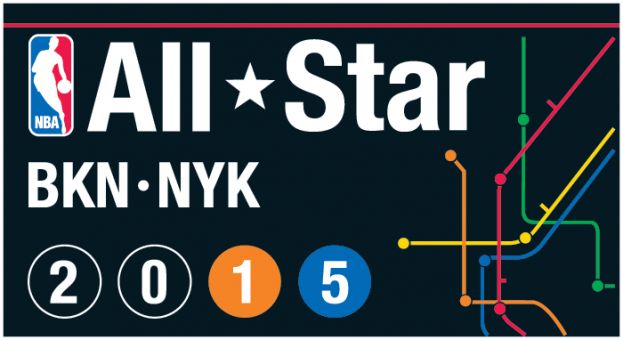 When it was announced last year that the NBA All-Star 2015 would be held in New York City, fans from across the world were excited that one of the largest basketball events would be coming to the Big Apple. With the new Barclays Center in full effect located downtown Brooklyn, minutes from the Brooklyn Bridge and a new and improved Madison Square Garden, it was no question that the best city in the world could handle three days of NBA festivities. The remaining question that lingered going into NBA All-Star is whether or not Madison Square Garden is still the Mecca of Basketball and, perhaps, by extension, is New York City still the Mecca of Basketball. With the Knicks struggling to win games and the Brooklyn Nets remaining a team of overpriced players with a seemingly disconnected owner, there was only one New York born and partially raised player that made it on the All-Star roster—Carmelo Anthony. Yet despite the politics of basketball, it became evident that the events were more than just basketball.
The city had been recovering and healing after news spread on November 14 that Akai Gurley, a 28-year-old African American man who was shot to death by a NYPD officer in the stairwells in the New York City Housing Authority's Louis H. Pink Houses in East New York, Brooklyn. The rookie officer, Peter Liang who was patrolling the dark, unlit stairwell, fired his gun, resulting in a bullet ricocheting off a wall, striking Gurley in the chest. If that wasn't enough for the city to handle, a grand jury decided on November 24 not to indict Officer Darren Wilson after fatally killing Michael Brown, an unarmed teenager in Ferguson, Missouri. Then two weeks later, here in New York, a Staten Island grand jury cleared an NYPD cop in the chokehold death of Eric Garner after the attack was caught on video. Garner was arrested for allegedly selling loose cigarettes. To top an already bad ending to 2014, two uniformed NYPD officers were shot to death in Bedford Stuyvesant, Brooklyn execution style in the line of duty after a gunman's mission revenge for the deaths of Garner and Brown.
The NBA has always been an organization in which players were allowed to express their voices, and due to the protests over the grand jury's decisions in the Brown and Garner cases, players like LeBron James, Derrick Rose and Brooklyn Nets players Kevin Garnett and Deron Williams wore T-shirts that read, "I can't breathe," the final words of Garner before he died in the chokehold. The players were responding to the "hands up, don't shoot" gesture that had been a worldwide slogan due to the deaths of Brown in Ferguson, Missouri. During media day for NBA All-Star, Miami Heat Dwayne Wade spoke about the importance of the NBA coming together during the course of these tragic events.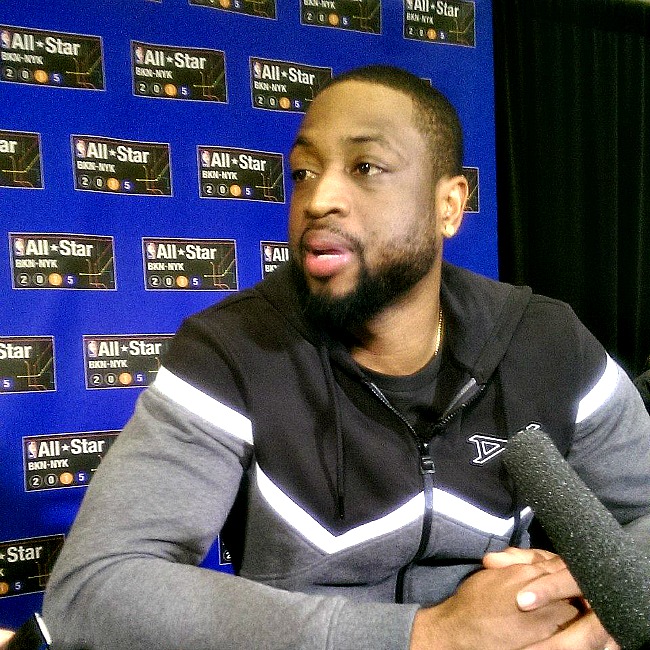 Miami Heat guard Dwayne Wade at the 2015 NBA All-Star Media Day
"I think the individual guys have done a great job of [taking] a stand or getting behind on whatever they believe in. Nowadays it's obviously a lot easier because of social media...for your voices to be heard," he said. "The NBA supports us doing that....When we leave here (New York), we are obviously going to do something in the community."
Additionally, Wade revealed that he constantly talks to his sons about being "aware."
"My kids...are shielded from the real world. This doesn't happen to every kid in America or across the world," he said. "You try to show them as much as possible. I am an open book with my kids. I don't try to hide them from what's going on in the world; I try to educate them and hopefully one day if they get into a situation they know how to or what not to do." Wade's comments made it clear that NBA All-Star came at the perfect time.
New York City is labeled as one of the greatest cities in the world because the people have proven that they can and will always overcome adversity. The city has undoubtedly produced a lot of basketball talent, and the argument is still up in the air on whether or not it's still the Mecca of Basketball. However, what the NBA All-Star 2015 did do was help to unify a broken city, if only for a short while.