NBA House: NBA All-Star Weekend's Best Kept Secret
NBA House treats fans to an experience of interactive activities, video highlights, prizes, and half-court basketball
As much as the 2015 NBA All-Star Weekend, this year in New York City, revolves around a collection of the elite basketball talents the NBA has to offer, NBA House, which began on Tuesday February 10th and runs through Saturday, February 15, takes a different approach.
NBA House is pretty much the NBA's answer to what a Dave & Buster's would look like if the NBA remixed its format for a day.
And that's what it was: a basketball party.
Held at the Skylight at Moynihan Station across from Madison Square Garden in Manhattan and LIU Brooklyn's Paramount Theatre, there was NBA basketball everywhere.
In the two available rooms of fun, the second and largest room featured half-court basketball courts where fans could shoot-around and receive basketball tips from instructors.
Flat-screen televisions were positioned on the walls and pillars around the room, displaying NBA content from this season and past highlights of NBA All-Star Weekend.
PlayStation offered several video game demo kiosks, where fans could compete against one-another in the latest installment of the bestselling NBA basketball simulation in NBA 2K15, on the next gen system, PlayStation 4.
Panini America Inc., specializes in exclusive memorabilia of all the major sports leagues including the NBA, featured its best signed NBA products, such as Jerseys and shoes autographed by Cleveland Cavaliers guard Kyrie Irving and Oklahoma City Thunder forward Kevin Durant.
State Farm, another NBA partner, took fan photos and offered a basketball skills station. PlayStation, provided fans with the NBA 2K15 demos, in which they judged all participants in their total assists.
Samsung displayed its technological prowess with some of its latest gadgets. The technology and electronics giant gave visitors an opportunity to test drive its Samsung's Gear VR virtual reality headset.
And if that wasn't enough, NBA legends Horace Grant and Muggsy Bogues interacted with the game's youngest fans, by helping kids find the answers to many of the games they played in front of an audience.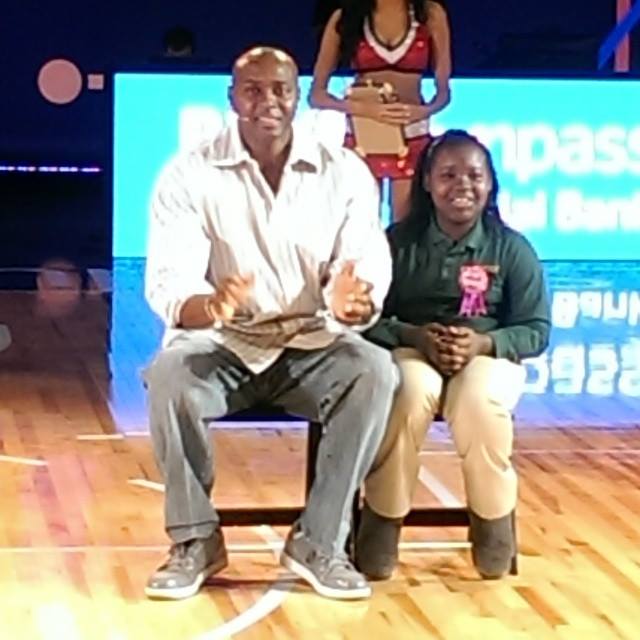 NBA legend Horace Grant interacting with fans at NBA House. Photo Credit: Gregory Alcala/ What's The 411 Networks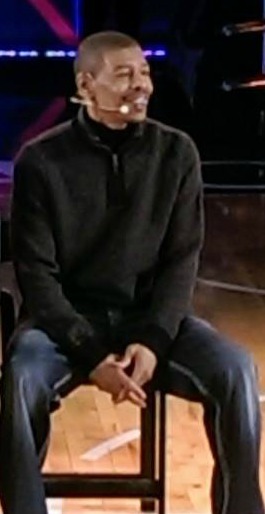 Former NBA player Muggsy Bogues. Photo Credit: Gregory Alcala/What's The 411 Networks
The entry space featured Kia, the NBA's official car. KIA Motors exhibited some of its finest automobiles alongside, another NBA partner Sprite, which gave fans the opportunity to enter a music recording booth and freestyle over pre-selected instrumentals. I must admit it was very tempting once I heard the beat.
Although the NBA House is not the primary reason why fans love the annual NBA All-Star weekend, it prevailed in treating basketball fans to a great hands-on and sensory NBA experience.
"This event showcases a little of everything of the NBA" said Sheri Simonson, a marketing Manager at Panini America inc. to WhatsThe411TV.
"It gives everyone a hands-on experience, and it also educates everyone on the NBA, the league and its players, and its All-Stars," Simonson added.
But wait, there's more.
"This event is awesome," said David Porter also a representative of Panini America Inc. "It brings people out to showcase the NBA's best talent once a year, there's lots of events and energetic participation but it also shows all of the people behind the scenes and what they do."
So basically, what she said.