Brooklyn Nets Fall Short to Washington Wizards at Home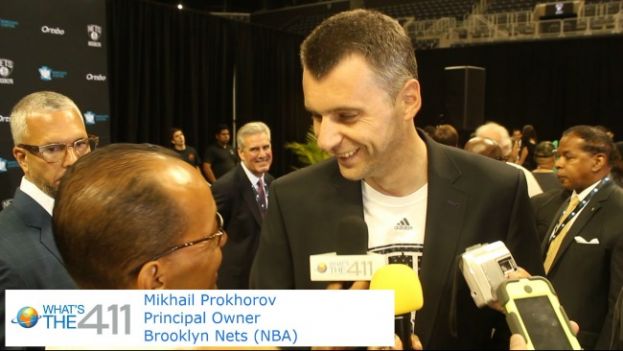 Photo Credit: Alexis Williams/What's The 411 Networks
Brooklyn Nets owner Mikhail Prokhorov speaking with What's The 411 reporter Andrew Rosario
Word Surfaced Prokhorov Shopping For New Ownership for Nets
The Brooklyn Nets contributed to another loss for the eighth time in nine games when they fell short to the Washington Wizards, 99-90 at the Barclays Center Saturday night.
Paul Pierce, who played with the Nets for one year after the Brooklyn franchise failed to sign him for the 2014-2015 season, recieved a mixed welcoming from fans when he was announced in the starting lineup with the Wizards.
The Nets visited Washington last night and cut their seven-game losing streak with their 102-80 win over the Wizards. However, it was a different story when the Nets played host.
Lopez helped his team keep the game close with a half-time score of 51-50. Neither team led the entire game by five and then Brooklyn made it even at 81 early in the fourth quarter, But the Wizards' dominance, including a three point play by Nenê contributed to a loss of momentum.
Jarrett Jack was Brooklyn's leader finishing with 22 points and 8 points. Joe Johnson finished with 15 points.
"Tonight, obviously, they [were] more desperate, knowing that we went into Washington last night and got a win," Johnson said after the game. "So we knew we were going to get their best shot today, but I thought we played great. I just think down the stretch we couldn't get stops and we couldn't make shots to get us over the hump."
It seems as though the loss to Washington is the least of Brooklyn's worries. In a team where consistency, unity and rhythm still haunt them, the team now faces ownership turning its back on them. Word spread earlier this week that owner Mikhail Prokhorov is looking to sell the team.
Three years ago when the Nets moved from New Jersey to the Big Apple, Prokhorov made a plan to win a NBA title within five years. Since then, the team has struggled with four different coaches—Avery Johnson, P.J. Carlesimo, Jason Kidd and current coach Lionel Hollins. Not to mention, Johnson was fired in the middle of the season and Carlesimo, who took over was not renewed for the 2012-2013 season.
Add to ownership and coaching disruptions, rumors have also spread that Brooklyn is looking to shop its star-injury plagued players Deron Williams and Brook Lopez around.
Only time will tell when it comes to the Nets.