Broner Skills A No-Show; Loses Bout to Maidana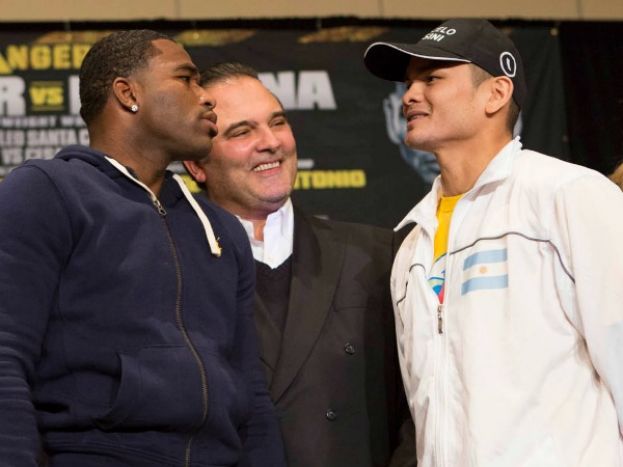 Photo Credit: Golden Boy Promotions
Adrien Broner (l) and Marcos Maidana (r) at pre-fight press conference
Time. Time, as a noun and a verb, is such a mind blowing concept. It separates day from night, am from pm, one hour from the next, as well as the minutes. In our world, we identify time as the events from one day to the next. Happy today could be and has the potential to become pain and sorrow tomorrow. In sports, the same theme follows as time does not disguise its capabilities to no one. Specifically in the sport of boxing, undefeated one day in an instance can become the first initial blemish of defeat, which is permanent and cannot be undone. There is no undo button as in computers.
Adrien Jerome Broner, an American Professional Boxer and three-time World Champion, the current WBC (World Boxing Council) lightweight champion, and former WBO (World Boxing Organization) super featherweight champion, WBA (World Boxing Association) welterweight champion is experiencing the effects of time right now. Saturday, December 14th, 2013, Broner woke up producing a flawless career boxing record of 27 wins 22 KO's in 27 total fights and that night Broner laid his head to rest with the same amount of wins, knockouts in now 28 fights suffering the first loss of his career. Saturday night was Showtime in the Alamodome, San Antonio Texas where Broner, held his first welterweight title defense against the heavy hitting Marcos Maidana (35 wins, 31 KO's and 3 losses), and in due TIME, received his first loss, hopefully an event significant enough to humble the young Broner, only at the tender age of 24. If you are unaware of who Broner is, use Google and you will know soon enough. I did not watch this fight even though I intended to do so, but I am speculating and feel as though I know exactly why he lost this fight and here it is: He's cocky, exudes confidence, talks down and disrespects his opponents, but that's not why. I think Broner suffered his first loss because throughout his career, he has made it his duty and desires to emulate the career of one, Floyd Mayweather.
Broner idolizes Mayweather and associates himself with the icon and views him as an older brother. From post-fight interviews to ring entrances, Broner has drawn comparisons to Mayweather regarding speech pattern, love for material things while being flamboyant with disregard to all competition, despite the threats. While Mayweather contains those same characteristics, he has very well begun his legacy tour featuring a mature shell of himself, less talkative to such a profound degree where fans are not watching his fights to see him lose but to see the excellence in boxing he possesses. Mayweather's mouth and persona throughout his career was used as a marketing tool to draw attention to himself as a villain which garnered interest in a negative fashion. Now, that same interest and attraction tune in because he is without a doubt the pound for pound king of boxing. His skills and boxing prowess are celebrated rather than his mouth which in the past created dark clouds looming over the Mayweather brand. Broner has adopted that same persona, taking it to new heights to his own detriment.
In the pre-fight press conference for Broner vs. Maidana, Broner predicted a knockout and claimed that the fight was going to get ugly. "....After I f%$# him up......." Broner uttered regarding Maidana. He also stated skills win you fights but little did he know that he himself maybe did not know what he was getting into as his skills did not arrive on time. Now Broner is a very skilled and talented fighter drawing comparisons to Mayweather not just for the public antics, but for the fighting style. He utilizes the same shoulder role defense that Mayweather has perfected. The difference is Broner is not the defensive technician that Mayweather is, nor has Broner developed the pot-shotting offensive exclusively used to score points. Broner offense is explosive and economical, as he does punch at a high rate but his defense is what Maidana took advantage of, as Broner met the canvas in the 2nd and 8th rounds for the first time in his entire career. That defense along with his disregard in respecting the competition equals his first loss. It also equals why there will never be another, "Money," another "Pretty Boy Floyd" another "Cash Cow". Mayweather collects data on his opponents during the fight, and translates that data simultaneously to his advantage in his fighting tactics to achieve victory. He trains extremely hard and is acknowledged as one of the top athletes in the world. Mayweather, I believe also has the same will to win that Michael Jordan contained and now Kobe Bryant also maintains. Mayweather has the hunger to not only remain undefeated until he decides to call it quits but also to win at all costs. I do not know if I can say the same about Broner, and with the first initial loss of his career, I do not think we ever will.