Arthur Ashe Essay and Art Contest Winners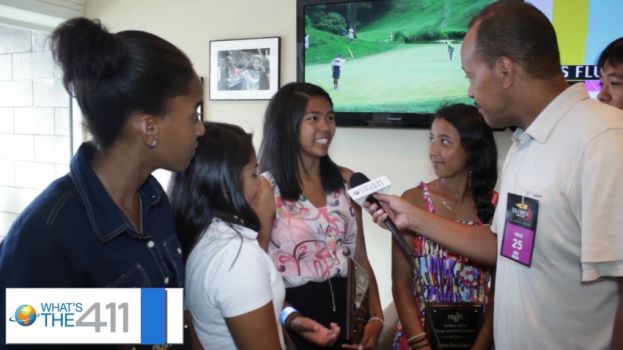 Photo Credit: Alexis Williams/What's The 411 Networks
Winners of the Arthur Ashe Essay and Art Contest
What's The 411TV captured some of the sights and sounds of the activities at the Arthur Ashe Kids Day 2012 held at the US National Tennis Center.
In this video, What's The 411's Andrew Rosario spoke with the winners of the Arthur Ashe Essay and Art Contest.
The Arthur Ashe Essay and Art Contest celebrates the writing and artistic skills of young people connected to the National Junior Tennis Learning (NJTL) network founded by Arthur Ashe.
New York City Mayor David Dinkins was on hand to help celebrate the winners of the Arthur Ashe Essay and Art Contest. The winners learned a great deal about Arthur Ashe and were genuinely honored to receive their awards.
Overall, Arthur Ashe Kids Day 2012 offered something for everyone. There were opportunities to watch tennis pros practice; attend concerts with pop and R&B stars such as Carly Rae Jepsen and Mindless Behavior; tennis clinics for the little ones; and a tennis volley contest featuring Serena Williams.
Arthur Ashe was born on July 10, 1943 in Richmond, Virginia and is remembered for his excellence as a tennis player as well as his efforts to further social causes. He remains the only African American player ever to win the men's singles title at Wimbledon, the Australian Open or the US Open. His legacy continues to have a positive effect on our society.