If you're looking for an extra dose of excitement during a tennis match, you have to tune in the Frenchman, Gael Monfils.
Whether he is sliding side-to-side in nearly full splits, or executing jaw-dropping, between-the-legs shots, his performance on the court continuously keeps you in awe. Couple his athleticism with a free-spirited personality, and you have yourself one of the most fascinating players in tennis today.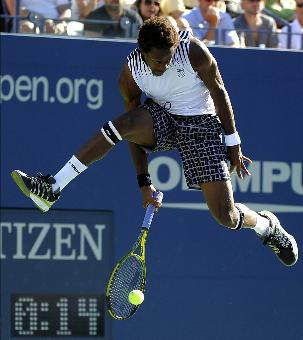 French professional tennis player, Gael Monfils. Photo: Getty Images
Monfils, ranked No. 20 at the 2014 US Open, advanced to the quarterfinals in the tournament for the second time in his career. In the quarters, Gael was leading two sets to love against 5-time US Open Champion Roger Federer, and unluckily let it slip away-- twice--failing to convert two match-points in the fourth set, before losing in five.
"I was saying to myself, keep it simple and try to make Roger play them because I knew that he will force it ... he will put the first ball in and then for sure come to the net very quick," Monfils said in reference to the two match-point opportunities. "So it was more like be relaxed and just lean a bit more on my forehand return and try to make it. And then we just played those two points, and well done [for Roger]."
Monfils did not dwell too hard on the loss, as he recently called Federer an idol and the legend of tennis. "I come strong. I played good, I [stuck] to my tactic, I was happy that I could do it. I was happy that also -- you know, sometime when you want to do [well], it's tough to deliver." He continued. "At the end I'm frustrated, but I'm happy. I think I gave my best. Simply Roger was too good at the end...I need a bit of time to forget this, but then it (will) give me more motivation."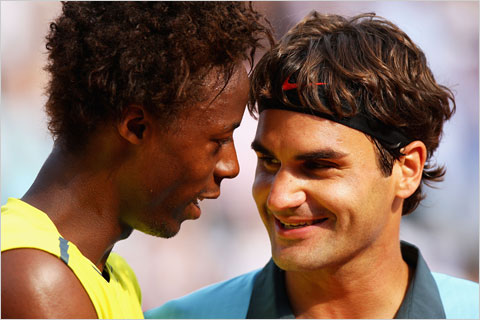 Gael Monfils (left) Roger Federer (right) at 2009 Men's Singles Quarter Final French Open at Roland Garros in Paris, France. Ryan Pierse/Getty Images Europe
A professional tennis player who hasn't had a coach since November 2012 and won't settle for just anyone, Monfils should be commended for maintaining his physical and mental toughness.
"For sure it's better to have a coach. I won't lie to you. It's better to have someone to help you. I need it. But as I say all the time, it's not easy to feel someone. That person has to be -- has to be, for me, like good, first of all, but has to be hard and also understand my personality. Because I don't think I'm easy, but I think I'm quite a good worker."
Monfils knows the type of coach he wants and has reached out to a select few, but they aren't able to travel full time.
As Monfils remains coachless, it's just him and his Coca Cola (yes, that's right.) During changeovers you can catch him quenching his thirst with a cold Coke. "Well, sometime, you know, I just feel like I want a Coke, and I drink a Coke," Monfils said while smiling.
Before leaving New York after a long run at the Open, Monfils was given a personalized can of Coca Cola by the company as part of their "Share a Coke" campaign.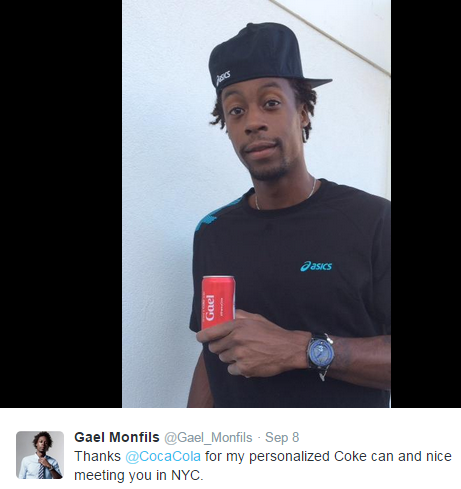 The US Open and New York City is practically a second home for Monfils, as New York was the first place he traveled to overseas with his parents, who are Caribbean. His late father introduced him to family friends in the Bronx.
"Then he [my father] showed me that the community, the black community was behind me. I was not aware about that also, here. You know, and then they started to come to the stadium, bring me that energy, and then they just [taught] me that here that I can feel ... at home and I have a second family also, as I say as even in the French Open," Monfil said explaining why New York City is so important to him.
"So when I feel good, the crowd is behind me and has great spirit, [then] I think I can be very tough to beat."
Monfils has the talent and can win a Grand Slam Title; however, it's simply a matter of him staying healthy, focused, and understanding court position throughout matches. His highest world rank is No. 7 and the furthest he has advanced in a Grand Slam was the semifinals at Roland Garros in 2008.
In the midst of watching Monfils win a title, you can sit back and relish his raw talent. And if you are lucky enough you can "Share a Coke" with Gael.
Watch Video: Gael Monfils and Laurent Lokoli performing in a dance battle during a rain delay at Roland Garros in May 2014.