Michael Mmoh Making Moves toward Professional Career
After an exhaustive 2 hour and 30 minute action-packed rally, American junior Michael Mmoh, No. 10, was knocked out in the first round against unranked Yunseong Chung from Korea at the 2014 US Open Junior Boys' Singles.
Mmoh dominated the first set but suddenly the 90-degree Fahrenheit heat and his frustration with play calling, combined with a persistent comeback from Chung got the best of him and he lost, 3-6, 6-3, 7-6.
The 16-year-old Mmoh explained his perspective on playing at a junior level.
"I felt a lot of pressure today. My other friends are rivals and have won so you don't want to be left behind, kind of in the dust. Because I was the 10th seed here obviously I was supposed to do better than losing first round."
One of Mmoh's closest friends, Francis Tiafoe, No. 1, is amongst one of his rivals in the junior singles circuit.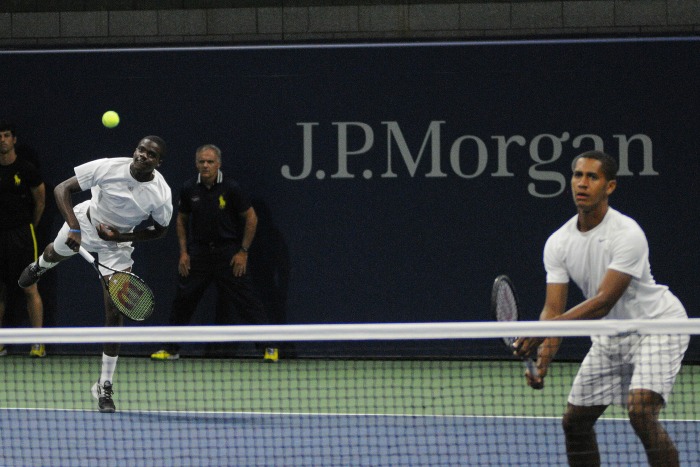 Francis Tiafoe (left) and Michael Mmoh (right) made their doubles debut in the professional circuit representing USA at the 2014 US Open and extended their journey to the second round. Photo by: Mike Lawrence // USopen.org
"There's also a different mentality when you're playing them (pros). There's no pressure, just playing the game to your fullest, compared to juniors where there are high expectations. It's different and it's amazing how much (your play) can change with pressure and without pressure." Mmoh said after experiencing a minor dosage of what will come in the near future as he prepares to perform in the pro circuit.
"Two years ago I played US Open Juniors I won a round, and same thing back then, no pressure. I was playing and going for everything and believing in everything. It's just different. It's good for me though...experiencing the pressure because if I do make it to the top then obviously the pressure is ten times more."
Right now Mmoh is focusing on performing in the pro circuit and looks up to Frenchman Gael Monfils.
"I like his personality and I think we have a similar game."
They both have a strong serve, forehand, and similar sliding technique. Mmoh's 6'2", 190 lbs stature and power should be advantageous in the pro circuit. He's been training at IMG Academy, led by Nick Bollettieri, the legend who helped produce US tennis great Andre Agassi.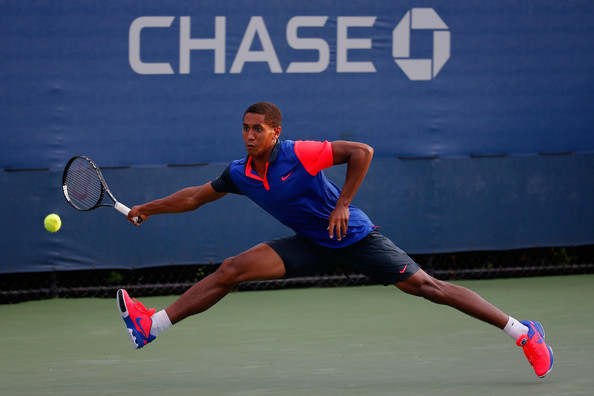 Michael Mmoh at 2014 US Open Junior Boys' Singles first round match against Yunseong
Chung Photo by: Chris Trotman// Getty Images
But will college ever be a part of Mmoh's future? "Right now, no. I really love the sport of tennis," Mmoh said with certainty.
Even though his three older siblings graduated from the University of Maryland and he visited the campus several times, becoming a professional tennis player is his primary focus.
"College is nice but I don't want to get distracted. I especially don't want the social life to affect my tennis game. I want to be a pro."
His peer, Noah Rubin, who was a wildcard in the 2014 US Open, entered his freshman year at Wake Forest University with a scholarship where his schedule will allow him to play pro events. After Rubin completes his freshman year he is able to leave the university and return at any
time to complete his degree.
Mmoh wasn't completely aware of that type of scholarship opportunity. He said he would have to investigate more on how to play collegiate tennis that is able to help leverage his professional career.
"You never know what may happen two years from now but right now I am focusing on tennis," Mmoh concluded.
One would think Mmoh would be interested in attending business school with his entrepreneurial experience since he created a mobile app at the age of 13 called "Over-snow."
It's a game where you tap away falling snowflakes before they reach the ground. It is useful to enhance hand-eye coordination.
"For now nothing really grabs my attention," Mmoh said in terms of a future career outside of tennis. Like many athletes, or anyone in general, you can never catch him without wearing his red Beats by Dre headphones.
"But maybe it would be really good to be the owner of Beats." Mmoh quickly said while glancing at his headphones.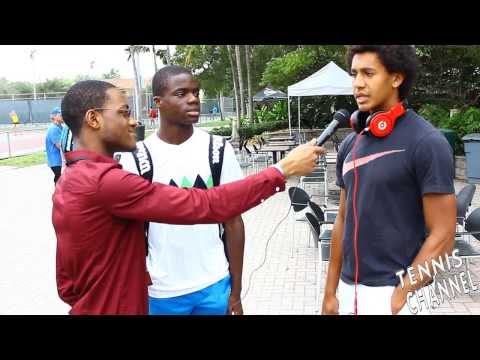 Michael Mmoh close friend and doubles partner Francis Tiafoe being interviewed while rocking his red Beats by Dre
The son of former ATP pro and Nigerian Olympian Tony Mmoh, and coached by former ATP pro Glenn Weiner, Michael is making moves to play professional events regularly. Two years is a long time for Mmoh to evaluate whether or not he plans to attend college. For now, he'll continue to develop his game- especially mentally like he referenced, and go to Futures tournaments and increase his ATP ranking.
Update: On October 26, 2014, Mmoh achieved a career milestone and made tennis history by winning his first professional tournament title at the City of Brownsville Men's Pro Tennis Classic in Brownsville, Texas becoming the youngest player to win a USTA men's Pro Circuit event since Rhyne Williams who won the Pittsburgh Futures in 2007.