Movie Review: Ghostbusters is eerily mediocre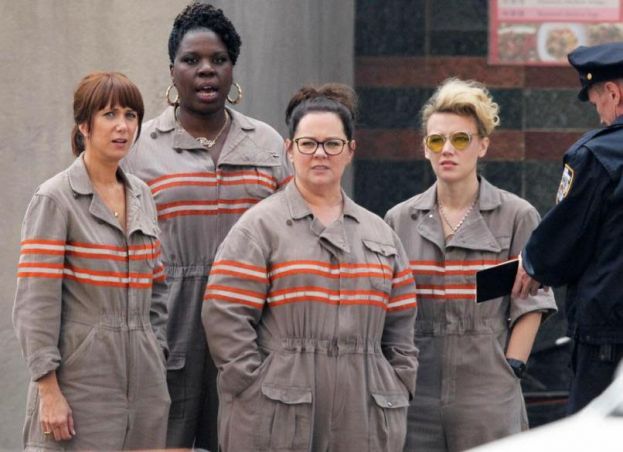 Photo Credit: Columbia Pictures
The Ghostbusters cast (l to r): Kristen Wiig, Leslie Jones, Melissa McCarthy, and Kate McKinnon
It's been 30 years and the Ghostbusters are back! According to press reports, the idea of a new version was bandied about for years. The issue was: what would the story be about? Two possible storylines included Bill Murray having a lead role as a ghost and another with the Ghostbusters going to hell. It was finally decided to move forward with a script centering on a female cast reestablishing the paranormal investigative agency. Kristen Wiig plays Erin Gilbert, a University professor, who's under consideration for a tenured position until her ghost hunting past not only keeps her from tenure but leads her to being shown the door. She reunites with former partner Abbey Yates (Melissa McCarthy) who never gave up her sleuthing of the supernatural. Kate McKinnon is Jillian Holtzmann, who Yates brought on board after Gilbert's departure. The three scientists investigate some ghoulish activities at a historical location in New York City. About the same time, a subway clerk (Leslie Jones) has an encounter at the station with a phantom. She invites the three investigators to see for themselves. Her fascination with the occurrence leads her to join the Ghostbuster's team.
Ghostbusters is a mere shadow of the original productions and gets a Rent It rating. The characters and storyline are weak and inadequate. The three scientist overlap in personality traits and lack clarity as to who they really are and what really motivates them. Wiig's Erin Gilbert speaks of an early experience with a ghost which spiked her interest. But overall, the four leads, The Ghostbusters, are poorly developed and not at all interesting. Also in a twist of an old plotline, the group hires an attractive, dumb blonde as a receptionist, but in this case, it's a man (Chris Hemsworth) working for women.
Wiig, McCarthy, McKinnon and Jones give it their best shots but they don't have a ghost of a chance with this substandard script. A note to the ubiquitous Melissa McCarthy, will you take a break and give some other actresses a chance to work!
And the plot is a scrambled mess about a misfit, Rowan, (Neil Casey) who uses his supernatural powers to get back at the world.
Ghostbusters doesn't disappoint when it comes to visuals. The imagery fascinates and dominates but is not enough to resuscitate this otherwise failing project.
There are cameo appearances from the earlier 'buster moves: Bill Murray, Dan Aykroyd, Ernie Hudson, Annie Potts, and Ozzy Osbourne.
As to its cast diversity rating, Ghostbusters get a "B". Leslie Jones has a major role. Andy Garcia stars as the mayor of New York City. But overall there is a lack of Hispanics and Asians for a story set in highly diverse New York City.
Ghostbusters is rated PG-13 for supernatural action and some crude humor. It's 116 minutes in length. Save yourself a trip to the theater. Wait and Rent this film. The special effects will be worth it.