Serena Williams Beats Simona Halep to Win Fifth WTA Finals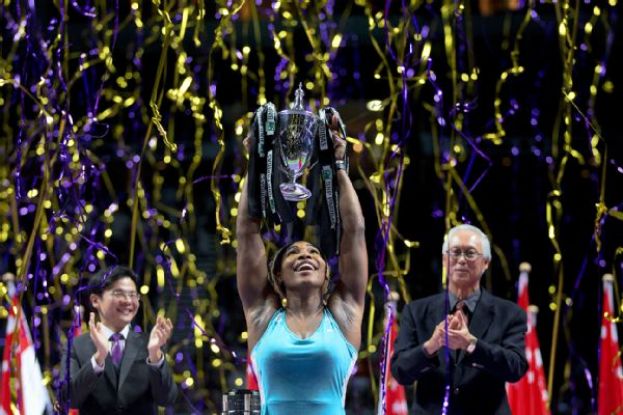 Photo Credit: AP Photo/Mark Baker
Serena Wililams holding the Billie Jean King Trophy at the WTA Finals in Singapore
Legendary tennis player, Serena Williams, won her third successive WTA Finals title and fifth overall by beating Simona Halep 6-3, 6-0 on Sunday.
Halep easily beat Williams just four days earlier during the group stage of the tournament, but Williams stepped up with an aggressive game plan for the big win.
Williams won 11 of the last 12 games in the match to join Martina Navratilova and Steffi Graf as the only players to have won five titles in the season-ending championships.
"I just started training, because I had such a bad knee in Beijing I didn't know if I'd be able to play here, and now I have won the Billie-Jean King trophy -- I am so excited," Williams told ESPN.
"I was nervous before the match that I had to play this big final," Halep said. "I couldn't manage very well the situation."
With this win, Williams claimed the $2 million first prize, claimed the Billie-Jean King Trophy, and also had a breed of orchid named after her in recognition.
Way to go, Serena!