5th Annual NV Movers & Shakers Awards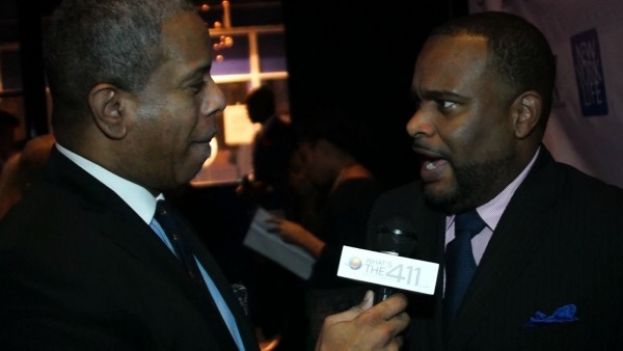 Photo Credit: Xanda Tonge
Christopher Chaney talking with Glenn Gilliam at the NV Movers and Shakers Awards
NV Magazine has established its 15-year history as a "new vision" of business publication for urban professionals around the country
Check out the video from the NV Movers and Shakers Awards:
Whether scaling the ladder within corporate America or creating a successful venture from scratch, NV has chosen to not only acknowledge, but honor, many of these ground-breakers with its annual Movers & Shakers Awards.
For the past five years, Founder, Kyle Donovan and Publisher, Christopher Chaney and their team have solicited recommendations for and researched their selections to identify honorees from the well established, even famous, to the less celebrated but ascending innovators, executives and business "hustlers" within the multicultural community. This isn't for the sake of taking nice pictures and having a cocktail, NV's mission is to empower communities of color through the recognition of these trendsetters and inspire collective collaboration to generate wealth and long term economic stability for the black and Latino market.
Ericka Pittman, Vice President, Brand Strategy at Blue Flame Agency, was honored to be on the cover of the Movers and Shakers issue.
Tren'Ness Woods Black, granddaughter of soul food restaurant icon Sylvia Woods, has been a fan and supporter of NV Magazine from day one.
Singer, Po Johnson, of La La Anthony's Full Court Life reality show fame, was also enjoying the excitement. Po found the NV Movers and Shakers event to be much more than she imagined.
As the Presenting Sponsor for the event, New York Life's Corporate VP & Manager, African American Market, Eugene Mitchell proudly proclaimed that, "we've partnered with NV Magazine for the past 7 or 8 years in an effort to change the financial future of black America and with our tools and products help build multi-generational wealth and that's what we're looking to do."
Here's the 2014 Class of NV Movers & Shakers:
• Caleb Denis, Director of Fiat Studio in Manhattan
• Gloria Alvarez, Project Manager at Ghetto Film School
• Yesi Morillo-Gual, Founder, Proud to Be Latina
• Ericka Pittman, VP Brand Strategy - Blue Flame Agency
• Ashley Mackel, Worldwide Marketing Manager at Ogilvy & Mather
• Modia Butler, State Director to U.S. Senator for New Jersey, Corey Booker
• Thomas Felder, 5LINX Enterprises, Inc., Senior VP
• Tren'ness Woods-Black, President and Chief Strategist of Tren'ness Woods- Black, LLC and third generation owner of Sylvia's Restaurant
• Kimberly Hogg, Associate Brand Mngr., Brisk Tea at PepsiCo
• Nicole Hall, VP Human Resources at Edelman
• Hassan Heyward, Field Representative at New York City Mayor's Office of Film
• Chantelle Fraser, CEO at Flawless Event Casting and Entertainment
• Mack Wilds, pop music artist and actor from HBO's "The Wire"
• Po Johnson, musician and personality on VH1's "La La's Full Court Life"
• Unique Zayas, musician
• Cole Cook and André Leon King, Co-Founders, Brother Bs Bag Collection
• Carla Gentry Osorio, celebrity hairstylist, and co-owner of STYLES NEW YORK SALON
• Ray Williams, President, Music Marketing Inc.
• Chef Kristopher Edelen
• Karen Dupiche, Emmy Award-winning makeup artist for "The View"
• Antrel Rolle, Pro Bowl strong safety of the New York Giants
NV always engages amazing entrepreneurs and professionals to share their obstacles, failures, and successes in the pages of its magazine and you can find it all at www.nvmagazine.com