Christopher Chaney Sees a Bright Future for NV Magazine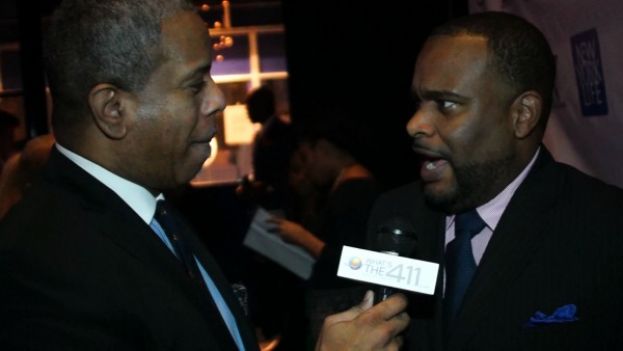 Christopher Chaney, NV Magazine Publisher, Christopher Chaney, talking with What's The 411TV host, Glenn Gilliams
VIDEO Interview with Christopher Chaney:
NV Magazine has established its 15-year history as a "new vision" of business publication for urban professionals around the country. Whether scaling the ladder within corporate America or creating a successful venture from scratch, NV has chosen to not only acknowledge but honor, many of these ground-breakers with its annual Movers & Shakers Awards.
For the past five years, Founder, Kyle Donovan and Publisher, Christopher Chaney and their team have solicited recommendations for and researched their selections to identify honorees from the well-established, even famous, to the less celebrated but ascending innovators, executives and business "hustlers" within the multicultural community. This isn't for the sake of taking nice pictures and having a cocktail, NV's mission is to empower communities of color through the recognition of these trendsetters and inspire collective collaboration to generate wealth and long-term economic stability for the black and Latino market.
Publisher, Christopher Chaney, could hardly contain his excitement when asked about tonight's event.
"Definitely excited about tonight, simply because it's going to be a packed house, it's always an amazing group of dynamic people, the magazine is 15 years old, we started doing this 5 years ago and it's like let's bring this group of people together, bring the network together and let all kind of possibilities happen. I mean the aftermath of the Movers & Shakers is that people are building businesses together, people are creating all kinds of new circles and typically people get promotions at their corporate jobs after this event, so it's a lovely night."
So how does NV magazine select its honorees for the Movers and Shakers Award?
"They typically happen probably 2 to 3 months before and it's a whole dynamic of past recommendations from prior Movers & Shakers and who they want to share with us and fit our group," Christopher replied. "We're always looking for people doing unique things, we're always looking for people who have really a strong voice in their industry and we definitely look for people who may be on the come up, so those you never really haven't seen in press before and you're like when you read about them you're like wow, I didn't know we were doing that, this is cool."
So, what's next for NV and how does it plan to build on what it has established with the Movers and Shakers Awards?
"What we definitely are doing is bringing back our marquee event, which is the NV Awards, which is our black tie gala where we honor only 10 people and all of them really at the top of their game, so we're doing that in 2015. In addition and what's coming up really quickly is that we have an app that we're about to release and that will be available on our website which will really be able to connect people in a totally different way so people should look for that on nvmagazine.com."
What has social media meant to NV's readership and how is the magazine playing in that space?
"That's exactly what our app is all about because it's a way of really connecting people and then having them build a network because if you have a great net-work, typically you have a great net worth, it builds access and it builds the ability to really grow wealth. Because you start making those relationships and start to have things click and it really comes through events like this and if you can take this to social media, if you can have them connect on your Facebook, on your Twitter and bridge your own apps where people can connect, then you really start building a change in our community, cause really our ultimate goal, is to build a community of wealth or community of wealth builders, where everyone comes in is like, okay, I can employ someone, wow I have a black-owned company you can do business with. So I think we need those kind of alternatives in our communities that's something we've been missing and that will bring up the hope and we'll have less hopelessness, we'll have less crime, we'll have less people struggling to get into the middle class and we'll have more middle-class looking at wealthy, we need more than one billionaire like Oprah."
To see our videos as soon as they are posted, subscribe to our YouTube channels: WhatsThe411TV and 411SportsTV