Jan Gaye Tells All in After The Dance: My Life With Marvin Gaye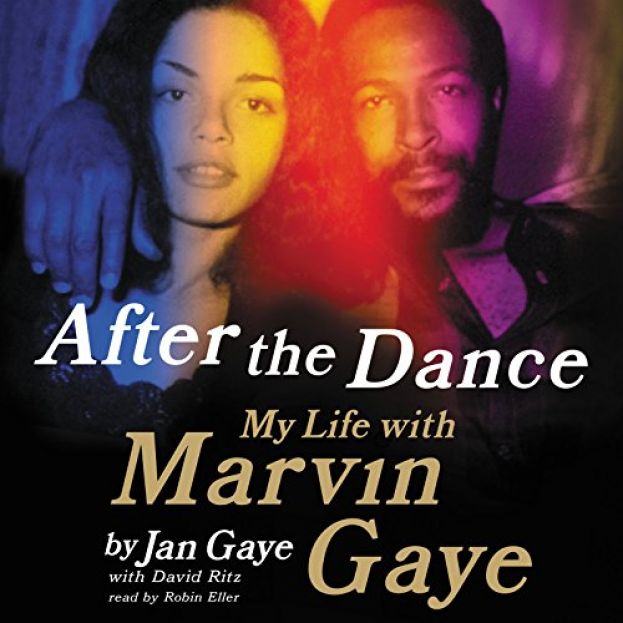 Book cover for Jan Gaye's new book, After the Dance: My Life With Marvin Gaye
An explosive new tell-all book to be released by Marvin Gaye's Ex-Wife
The late great Marvin Gaye's ex-wife, Jan Gaye, wrote an autobiography titled, After The Dance: My Life With Marvin Gaye. The book is scheduled to be released shortly by Amistad Books, which is an imprint of Harper Collins Publishers. The autobiography details sexual deviant behavior, drugs, and anxiety and the tumultuous love affair they shared starting when she was just seventeen years old. In many states, 17-year-old is considered a minor.
Jan Gaye also describes sexual interactions with Marvin Gaye's celebrity friends that include Frankie Beverly and Ryan O'Neal that Marvin orchestrated and condoned.
This tell-all is being released directly following the settlement of the hit song, Blurred Lines, by Robin Thicke and produced by Pharell Williams which was a basic remake of Gaye's Got to Give it Up, where Jan Gaye sang background vocals.
According to reports, Jan Gaye and her family received 7.3 million dollars in the copyright lawsuit. So why is there a need for a tell-all book?

Celebrity makeup artist Courtney Rashon is synonymous with all things creative. Known for her ability to transform the ordinary into something breathtaking, her abilities always exceed the expectations. Not only does she possess the skills needed for everyday glamour makeup, she also is a special effects artist as well.
Her company, Courtney Rashon Industries, consists of a full-service beauty entity that provides glamour/beauty and visual effects makeup application, men's grooming, imaging and mentoring for aspiring makeup artists.
Since the birth of her company, she has produced makeup for artists such as Timbaland, Sebastian and Petey Pablo, reality television personalities, Natalie Nunn, of the Bad Girls Club, Exotic from For the Love of Ray J and director Paul Coy Allen of R&B Divas, just to name a few. Also, she has been the key makeup artist for commercials, short films and the social movement documentary From Fatherless to Fatherhood which aired on OWN and Aspire networks. She has also given demonstrations at Robert Fiance Beauty Schools on specialty makeup subjects including bridal makeup and television and film makeup applications.