EMERGE! Runway Fashion Show A New York Fashion Week Standout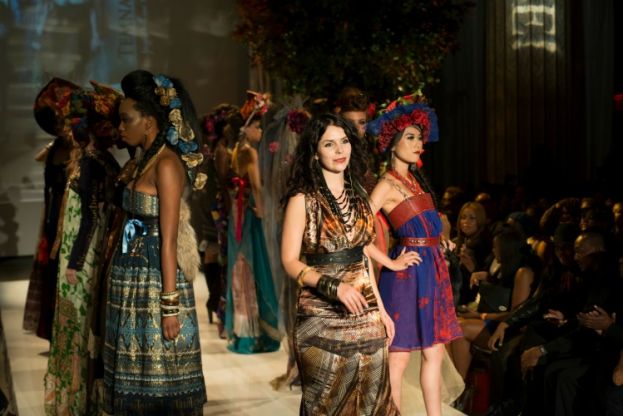 Photo Credit. Lee White/Lee White Photography/What's The 411 Networks
Arefeh Mansouri, Arefeh Fashion
EMERGE! Runway Fashion Show an awesome Platform for emerging fashion designers during New York Fashion Week
What's The 411 Co-Host, Barbara Bullard, covered one of the leading emerging designer collective showcases during New York Fashion Week, the EMERGE! Fashion Runway Show.
EMERGE! A Fashion Runway Show is produced by D. Williams Public Relations Group and has become one of the top emerging designer platforms during New York Fashion Week and has been consistent in providing a national outlet for emerging designers to showcase their work.
Barbara interviewed Dionne Williams, Owner, D. Williams Public Relations and the Creative Producer of EMERGE!. Dionne discussed the genesis of EMERGE!, the fact that the show is only two years old and that the designers come from all over the world.
India de Beaufort, an actress/fashion designer showcased 'Ballyhoo,' which is inspired by her love of all things period, all things Parisian, and her cherished and ever-growing collection of Vintage and Antique clothing.
Designer Taneasha Prunty of Gidi Designs started sewing by hand at the age of five. A "sucker for lace", Ms. Prunty believes that every woman looks good in lace if worn properly and every woman should have lace in her closet.
Known for her over-the-top eveningwear, Ms. Prunty showcased a more relaxed daywear line, which still includes feminine touches and elegant details that still make the pieces look polished.
Nicole, an accessory designer, and Archie, a model and event organizer, talked about their participation in the show. Nicole provided Taneasha Prunty of Gidi Designs with custom jewelry to accessorize her designs. The jewelry has a country vineyard theme with lavish colors, wire wrapping, crystals, and semi-precious stones.
Archie, a model and event organizer, came to the show to support Berny Martin of Catou. Archie is holding a fundraising event in December 2012, in Haiti to support education in Haiti. The show will also be held in Japan, Dubai, and other countries.
An enthusiastic Aaron Handy, along with Iran "Bang" Paylor (not interviewed) handled all of the backstage logistics including model management, casting, hair, make-up, and order of the show, all of which makes for a good show to the audience.
Brigid Turner, a former EMERGE! model is now Director of Operations. Brigid spoke about her role in the audition process and pairing up models with designers so every designer has the right model to showcase their designs.
Lastly, Kim Roxie, Founder and Creative Director, Lamik Beauty, is one of the sponsors of EMERGE! As a young entrepreneur, Kim Roxie is very proud to support emerging designers.
In addition to India de Beaufort and Taneasha Prunty, the video also features the designs of Temna Fialka, Franklin Rowe International; Berny Martin – Catou Designs, and Arefeh Mansouri of Arefeh Fashion.