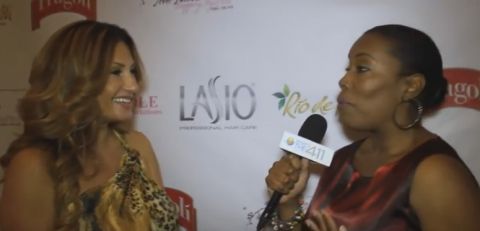 VIDEO: Mob Wives reality TV star Love Majewski attends Shopping Night Out to support Beating Cancer in Heels
Speaking to What's The 411 correspondent Barbara Bullard, Love Majewski explained the back story that is of interest to many people. Ms. Majewski came to fame through I Married a Mobster, a docu-drama based on her life. I Married a Mobster was a cathartic experience for Ms. Majewski because it helped to reveal her toxic lifestyle.
"More than anything, it was very healing, to let out the things that I hadn't been able to say in the past... purging myself of all the negativity," Ms. Majewski said about I Married a Mobster.
The reason for sharing her story is for young women. Ms. Majewski advises young women to give another look at the normal guy.
Ms. Majewski recently created her own cosmetic company, Veritas Cosmetics, and now knows that she can stand on her own. She no longer sees men as a crutch and wants young women to know they can do anything on their own.
Shopping Night Out was conceived by Nikkia McClain, Founder and CEO, Tene Nicole Marketing and Public Relations.
Shopping Night Out benefits Beating Cancer in Heels, a non-profit organization created by Marlena Ortiz, a 28-year-old breast cancer survivor.