Brooklyn Nets Media Day: It's Clear the Nets Are Turning a New Page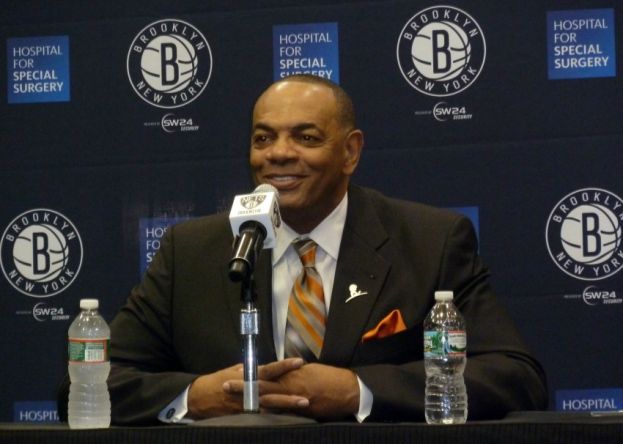 Brooklyn Nets Head Coach Lionel Hollins addressing the media at Brooklyn Nets Media Day at the Bets Practice Facility in East rutherford, NJ
I've been waiting for the fall season for a reason. This particular time of the year is usually associated with leaves on trees changing colors, the beginning of yet another academic calendar and the resolution of summer. For me personally, it means NBA basketball is back! The Brooklyn Nets kicked off its media day at the Nets Practice Facility in East Rutherford, NJ on Friday, September 26th. It was clear, it is a new day in Nets land. Nothing but positive messages filled the air on a beautiful day revolving around all things Brooklyn Nets, and I was a part of that experience.
Newly-appointed head coach Lionel Hollins addressed the media first followed by Deron Williams, Joe Johnson, Kevin Garnett and Brook Lopez. The remaining players on the roster spoke in groups of four, separated by 10-15 minutes each.
No one was allowed to shy away from the microphone, as this day was for the media. During his press conference, Kevin Garnett told the vast number of reporters in attendance that head coach Lionel Hollins has a presence, and as Hollins was the first member of the Nets franchise available for the press, I acknowledged exactly what Garnett was referring to. Hollins' press conference wasn't just filled with the generic "This is what we're going to do..." soliloquy, it was honest, very honest, straight forward, and relaxed. Hollins is a stand-up guy and answered every question from a relaxed state, as if he is incapable of being rattled. When asked how he was going to deal with the personality of one Deron Williams, who has been labeled "a coach killer,"
Hollins's simply answered with a smirk: "I have the reputation of being a player killer...".
Hollins wasn't just insightful regarding what he has in-store for this current blend of veterans and journey-men, he was actually quite funny.
In referring to what has impressed him the most from the group of guys at his disposal during early scrimmages, Hollins expressed that the most impressive thing from these scrimmages was that he himself looked good coaching from the sidelines, which was received well from the media correspondents. On a serious note, Hollins shared his coaching thought process, indicating a system that involves everyone, as well as, highlighting that he likes the fact that his team has a number of guys with experiences and accomplishments that he can rely on to be in the forefront and lead. The keyword in the discussion of the team for Hollins is toughness. Hollins articulated that he wants his team to be tougher, more aggressive and compete harder. This should not serve as a shock coming from a residential Western Conference Head Coach for the majority of his coaching career.
One person who symbolizes toughness is Kevin Garnett who seemed upbeat, prepared for the season while noting that although he is entering his 20th season, there is still something worth playing for.
"The mindset has to be Championship or nothing..." Garnett said during his conference session.
Garnett still believes he has something to offer at the tender age of 38 but noted that the Nets success will solely be based on the core three guys in D-Will, Lopez and Johnson. The main focus of D-Will's conference session was health, which at this point in his career is essential to any success the Nets hope to enjoy this season. Williams is recovering from ankle surgery on both of his ankles, an injury that affected his performance the previous year which might've been his most disappointing.
"I don't think I'm 100% yet just because I've only had one month but, I'm pretty close," Williams said. "I'm getting strength. I'm getting confidence on it, I've played 5-on-5. I feel like I'm at least 20% better than I was all of last year."
On the new head coach: "He's going to be great for us in what we're trying to do here and I'm excited to play for him," Williams said.
Johnson, the team's second leading scorer also weighed in on coach Hollins hoping that he is the primary voice for this team going forward into the future.
"This is my third year here, and every year we start with a different coach," Johnson said. "Hopefully this one turns out a little better with us getting off to a great start."
Johnson also took a playful shot at former head coach Jason Kidd hinting that they hardly practiced at all. It will be the exact opposite with Hollins, as he plans to challenge guys and put them in tough situations during their practice sessions.
The most integral member of the Nets starting-5 in Lopez, scheduled to speak to the media last provided the answers to questions that the media in general all shared.
When asked how his body felt, Lopez stated: "I feel great right now, I'm not looking for any restrictions, I'm just ready to go."
For Nets fans, that should be encouraging. He also talked about what coach Hollins expects of him as a center, which is an enhanced effort in rebounding the basketball.
"It's just a matter of increasing my effort," Lopez said. "It's not just boxing out but going to get the rebound after and focusing on offensive rebounding."
All in all, the core pieces of the Nets franchise which includes coach Hollins revealed how much of a responsibility it is to be who they are having their own press conferences while the remaining players of the Nets roster held their media sessions on four tables positioned outside of the press conference space. Johnson described newly acquired point guard Jarrett Jack as the x-factor of this team, and while he was available I asked what he believes he can bring to this roster.
"Just energy man," Jack said. "I think pushing the pace, trying to get easier quicker baskets in transition or off turnovers, I think that is something that I can provide."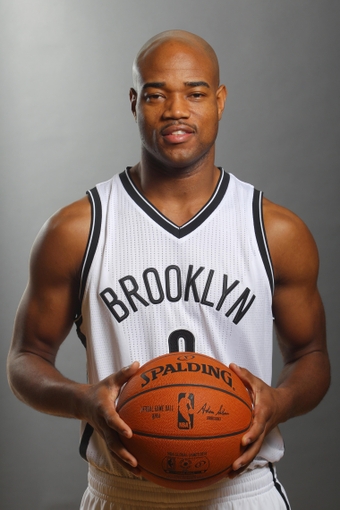 Brooklyn Nets point guard Jarrett Jack
I also asked Jack how he felt when he received the news that he was coming here to which he replied: "I was happy, I was all smiles," Jack said. "I think as basketball players we all wonder about playing in a big city, under the bright lights, in NY so I was chomping at the bit to get this opportunity."
Very rarely do you hear athletes state the desire to play in New York and with his answer I have to take Jack for his word. Mason Plumlee, now a gold medalist talked about his summer competing in Spain but targeted Vegas, Chicago and NY as the best part of the trip. Plumlee added that those three locations tested him the most as he was one player in a large group of NBA hopefuls battling each other for a roster spot on Team USA, a situation that you cannot simulate. Due to that experience alone, Plumlee is a player to watch for the Nets going forward. Plumlee is also looking forward to playing under Hollins with the ambition of becoming a better NBA player.
The Nets finished 44-38, second in the Atlantic division under first-year head coach Jason Kidd. Under the guidance of Hollins I believe the Nets will be revamped. They will be rejuvenated. They will have a viable opportunity in playing for first place in the Atlantic Division, but it all boils down to the same individuals who held their media session ahead of everyone else. There's a reason why Hollins, Garnett, Lopez, Johnson, and D-Will were scheduled ahead of the rest of the roster in a secluded area stationed on the Nets practice court. They are the core pieces to which this franchise has built its foundation on. The Nets can't progress if Lopez doesn't have a bounce back year, which I believe he will. Lopez was the leading scorer for the Nets last season albeit missing the majority of the season, averaging 20.7 points, better than D-Will and Johnson. Go figure. The Nets can't progress if Johnson is incapable of reminding us why he is a 7-time All-Star. Johnson averaged 15.8 points per game last season, his lowest points total since his 4th year as a pro. D-Will has to prove he is healthy and Garnett has to keep his commitment to the Nets all while sustaining his health. Last but not least, Hollins has to prove that he can corral this group for the greater good, and from listening to his words, I have no doubts that he will be successful. These are exciting times in the NBA world and on the east coast for one particular team, it all began on Friday, September 26th at the Nets Practice facility in East Rutherford, NJ. That team is the Brooklyn Nets.