Michael Jerome Francis Makes a Fashion Statement: Save The Bees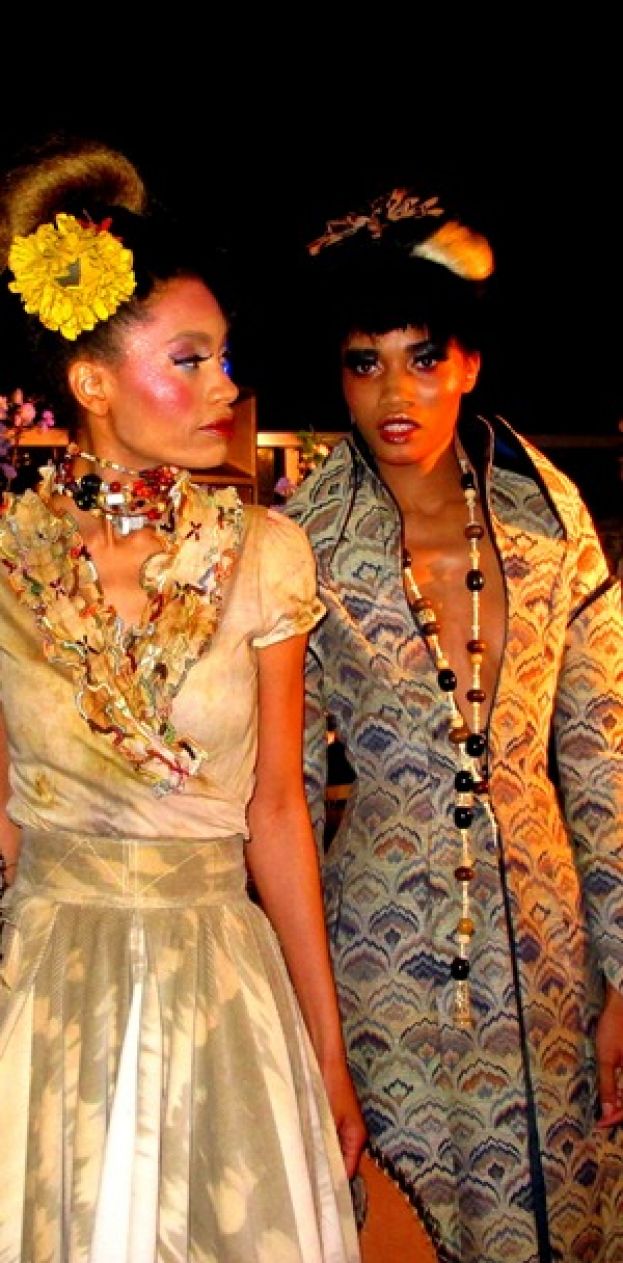 Fashion designs from Michael Jerome Francis' signature line, Save The Bees
Nature-friendly fashion designer Michael Jerome Francis wants to make his fashion statement LOUD and clear- "Take the material, make beautiful clothes, and turn it into something of value." Francis, a socially- conscious designer with a heavy emphasis on capturing moments around him, tells his story of imagination and childhood through fashion. He uses what's there and recycles into something new, Couture.
Nearly two weeks after DeZign InterventionTM and Creative Director Barbara Bullard hosted and sponsored an event for Michael's signature line, Save The Bees, he's already working on a new project. In a phone interview with What's The 411 reporter, Crystal Henderson, he spills the beans on this latest work, birthplace of Save The Bees and advice to new designers breaking into the world of fashion.
Check out the interview below.
What are some of the current projects you're working now on?
"Right now I'm working on my 'Daddy Queen' collection. It is basically an exploration of my heritage and my relationship with my father. My approach through fashion is always through storytelling. I researched the history of Jamaica and it includes the natives who were the Indians."
"So in celebrating that, I am doing a lot of weaving pieces that will be made into dresses and even jewelry. I want to make beautiful clothes, but it always has to come from a place of intention."
Where did the concept of Save The Bees originate?
"I envisioned a world where gardens were the new mansions. It's so rare that people travel long distances to be in a garden. So, in this place- nature and attention to materials that are around you are more important because there's very little. I created a lot of pieces that could be mixed and matched. All of these women were coming into a place and they were women who just had collected things. They're in this place where they'reforced to wear something they make."
"The idea of flowers were made out of leather remnants. You know how you go into a leather store, and they have those booklets with just leather samples? They were actually made from those samples because actually what happened to those is that- they get disposed after a season. Giving those flowers new life was just really exciting. That was one of the features of Save the Bees that I am most proud."
How do you keep up with the demand to always appeal to the newest and latest trend?
"I feel like it should come to a place where that all slows down. Fashion is more iconic. I want to produce high art. I want to be able to make those pieces that are manufacturable like with 'Save The Bees.' I want to create those timeless pieces that you say to yourself-I don't want to get rid of this jacket!"
"In couture, you have to have intellect. It has to be formed, functioned, and it has to be told through a story. It is the birthplace of ideas in the ecology of fashion."
What do you say to an aspiring fashion designer who has a corporate job, but wants to follow their passion?
"I feel like there has to be a passion for a person's art. If you feel, you need to do it. It may be difficult, but if you really have that passion, you won't be happy until you actually giveit a shot. I always want to be in the game, no matter how successful I am or not, I just always want to be a part of it."
For personal inquiries, please contact Michael Jerome Francis at This email address is being protected from spambots. You need JavaScript enabled to view it..